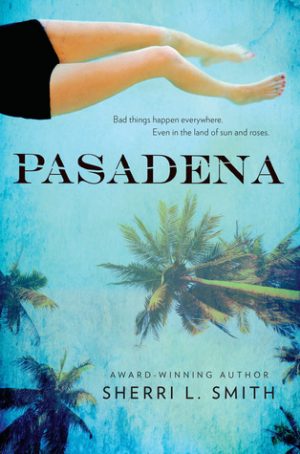 Pasadena
By:
Sherri L. Smith
Website:
http://sherrilsmith.com/
Release Date:
September 13, 2016
Publisher:
G.P. Putman's Sons Books for Young Readers
Received From:
Publisher
(All reviews are our own, honest opinions.)
Rating:
Pasadena by Sherri L. Smith is a YA novel. Jude is suddenly called back from the east coast where she was visiting her aunt, cousin, and, theoretically, her father – her best friend is dead. They said it was a suicide. Jude's just not convinced. It was murder. And she's going to find out who did it.
Let me start with the small stuff.
This is a YA novel. The book is written from the first person point of view. Jude is our narrator, the eyes through which we see. The entire course of the novels takes place in the span of a few days – from the arrival of Jude back in her hometown to the day of her best friend, Maggie's, funeral. It touched on a lot of issues, a lot of things that should be talked about, most notably, suicide. And how to deal with those, and other issues, in your life.
Or, how to not deal. Because after finishing the novel Jude didn't change at all, and didn't learn any lessons. If anything, all she did was admit that she'd been horrible to nearly every other character in the book, not that she seemed particularly sorry about any of it.
I did like certain things. It was a fast read, so that was good. The cover is pretty, and made me want to pick the book up. And I actually really liked the flashbacks to conversations Jude had with Maggie throughout the course of the book. It helped us get to know Maggie better, meet her as a character outside of Jude's inner thoughts, and give the reader insights that Jude couldn't see or didn't want to.
Now, for the heavier stuff.
I should be able to relate to Jude very, very well. I, too, lost a very good childhood friend to suicide. I was a year older than Jude at the time, just starting college instead of about to begin senior year in high school. Theoretically, this should have hit me right in the feels. Only it didn't. Not even close. All it managed to do was tick me off.
The only thing I can relate to her on is this: that moment when you first hear the news and you don't believe it. It's wrong. They're wrong. It was something else, it had to be, and you'll figure it out. But your brain catches up with your heart quick enough, and beats it back into submission. And then you just feel sad and pretty empty, torn between wanting to be left alone and clinging to the people we love.
Everybody except for Jude, that is, who really didn't seem terribly upset at all. Sure, I get that she was channeling all that emotion into trying to find Maggie's killer, but it just didn't come across that way. Jude just came across as cold. She's awful to her friends. She's awful to her family. She's awful to Maggie's family. She's even awful during the funeral. And when it comes to light why she might be acting this way? Well, that isn't dealt with in any sort of meaningful matter. At best, it's just a reason. At worst, it's treated like an excuse, as if we should just forgive Jude of her misdeeds, her attitude, and except that she'll just be that way forever.
Also, the ending just didn't hold up for me. After everything that happened, it was just flat. The delivery and realization of what happened was just…boring? Predictable? Either way, there was no pay out at the end to make me rethink my opinions on the novel.
All in all, Pasadena by Sherri L. Smith was a disappointing read for me. If you like YA books, give it a try. It just wasn't for me.
Read If:
you like YA, you like reading about heavier topics

Don't Read If:
you don't want to read about suicide and mentions of rape, you like some depth in and realistic reactions from your characters