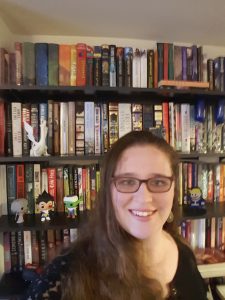 Kathleen Townsend (Co-Founder)
Kathleen is a book blogger and editor. Being fed a steady diet of fantasy novels and ghost stories from a young age, she's loved books ever since. She reads all manner of science fiction, fantasy, horror, manga, light novels, and graphic novels.
Favorite sub-genres include: high fantasy, epic fantasy, folklore & mythology, shonen, isekai, mech, cyberpunk, steampunk, time travel, dystopia, and apocalyptic/post-apocalyptic, LGBT+/Queer manga and novels. She also loves novels that touch on alternate dimensions and world line theory.
Note – Kathleen does not review any books from publishers she currently has freelancing contracts with. If you don't see reviews on the last book in your favorite series we've been reviewing, this is why.