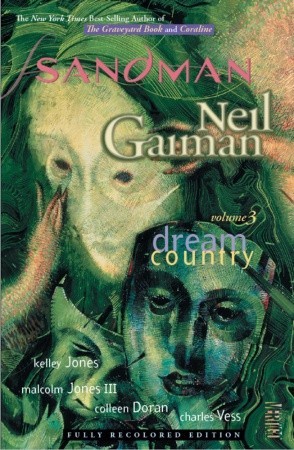 Dream Country (Vol. 3)
By:
Neil Gaiman (writer)
Release Date:
(Original release) 1991; (this volume) October 19, 2010
Publisher:
Vertigo
Series:
The Sandman #3
Award:
World Fantasy Award for Short Story ("A Midsummer Night's Dream); Harvey Awards Nominee for Best Graphic Album of Previously Published Material (1992); Will Eisner Comic Industry Awards for Best Continuing Series, Best Writer (for Neil Gaiman) (1991)
Rating:
Happy Throwback Thursday, everyone. This week I continued reading The Sandman series, written by Neil Gaiman. This is an excellent horror graphic novel series, perfect to read around Halloween that everyone should read.
For anyone unfamiliar with the series, or if you'd like to catch up on our reviews, check out the reviews of Preludes and Nocturns (Volume 1) and The Doll's House (Volume 2).
Dream Country (Volume 3) of the The Sandman series reads more like a compilation of short stories as opposed to the previous volumes in the series. The volume is separated into three different stories. One is about a Here again Dream takes somewhat of a back seat. Dream's presence is obvious, and very much felt in each tale. Yet, he is not necessarily the main character of each tale. He is the catalyst, the important factor, the other, at times.