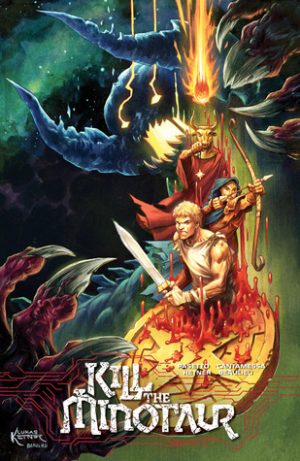 Kill the Minotaur
By:
Chris Pasetto; Christian Cantamessa
Illustrator:
Lukas Ketner; Jean-Francois Beaulieu
Release Date:
February 6, 2018
Publisher:
Image Comics
Received From:
Publisher
(All reviews are our own, honest opinions.)
Rating:
Mythology is something I have long been fascinated by, an interest that formed when I was a child and stuck. While I sit on the fence most of the time with retellings of popular fairy tales or legends, I decided to give this one a try. Kill the Minotaur is written by Chris Pasetto and Christain Cantamessa with art by Lukas Ketner and Jean-Francois Beaulieu, and is a unique retelling of the myth of Theseus and the Minotaur.