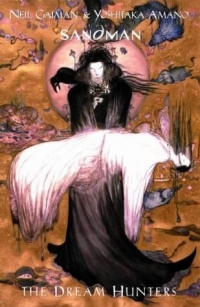 The Sandman: The Dream Hunters
By:
Neil Gaiman (writer); Yoshitaka Amano (artist)
Release Date:
November 1, 1999; (This Edition) 2000
Publisher:
Titan Books Ltd.
Series:
The Sandman
Award:
Bram Stoker Award for Best Illustrated Narrative (2000); Hugo Award Nominee for Best Related Work (2000); Will Eisner Comic Industry Awards for Best Comics-Related Book (2000)
Rating:
Have you ever heard of The Sandman: The Dream Hunter by Neil Gaiman and Yoshitaka Amano? Yeah, I hadn't either. I discovered this book tucked away in the graphic novel section of my local library between two volumes of The Sandman graphic novel. The story set within the Sandman universe. This is a novella, though, not a graphic novel. Even better, it's filled to the brim with one and two page art spreads by none other than Yoshitaka Amano, famed artist for many a Final Fantasy game.