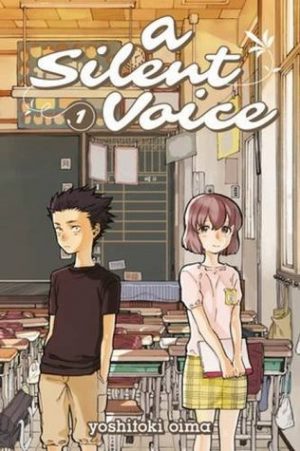 A Silent Voice Volume 1
By:
Yoshitoki Oima
Release Date:
(Original Japanese) November 15, 2013;(English Translation) May 26, 2015
Publisher:
Kodansha Comics
Series:
A Silent Voice
Rating:
I've recently been getting more manga from my local library than I used to. (They won't acquire more if no one's reading them, after all). But while they have a rather comprehensive who's who of 1990s manga, more modern titles are often missing. Luckily, one of the series they've made sure to put on the shelves is A Silent Voice by Yoshitoki Oima.
Despite having a rather famous movie adaptation, I went into this series pretty much blind. I haven't watched the movie and knew nothing of the plot beyond the very basics. A Silent Voice is the story of two middle schoolers – a boy named Shoya and a girl named Shoko. Shoko is a new transfer student and deaf. Shoya suffers from nothing greater than perpetual boredom, and begins to bully Shoko. The entire class joins in on Shoya's bullying, with Shoko ultimately switching schools. Yet Shoya shoulders the blame of her dropping out of their school alone. Years later, at the end of high school, Shoya meets Shoko again.