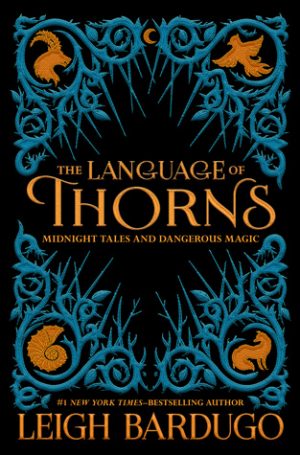 The Language of Thorns:
By:
Leigh Bardugo
Website:
http://www.leighbardugo.com/m/
Release Date:
September 26, 2017
Publisher:
Imprint
Series:
Grisha Verse
Rating:
The Language of Thorns: Midnight Tales and Dangerous Magic is, at heart, a book of fairy tales. These stories are set in Leigh Bardugo's Grisha universe, the same world in which The Grisha Trilogy and the Six of Crows duology are set. Instead of high stakes adventures, we are given several fairy tales that take place in unspecified times within this world.
Beautiful illustrations by Sara Kipin grace every page. Mostly, the illustrations surround the borders of the pages. Larger one and two page images can be found between one short story and the next. The cover of this book is quite beautiful as well. The dust jacket of the hardcover has a cloth-like feel to it. This adds to the mythological feel of the work. It enhances the idea that this is a book of old, oft-told myths being pulled off a shelf.
Each short story has a color theme, those being either red or blue. One color or the other is used heavily within the boarder images as well as having a deep red or dark blue tint to the text of the story itself. I like this. It ties the illustrations and the story itself together even more. The separation between one story and another is more obvious than normal. (I tend to flip ahead so I know where chapter breaks/story breaks are). More importantly, this makes both the short stories and the book as a whole feel much more like an old tome filled with old fairy tales. On the other hand, this could make the book a bit harder to read for people with certain eyesight issues. If you think this might be an issue for you definitely check out the book in a library or a bookstore before purchasing if possible.
The stories within this book are all very good. Each one has that air of myth and magic to them that all fairy tales hold. Despite its roots in traditional fairy tales, all of these stories have endings which rely on sense, cunning, and bravery rather than the 'true love conquers all' or 'the power of friendship beats the odds'. Some of these tales have rather obvious roots in real world fairy tales. Others I was either not familiar with or had roots which were a little more obscured. Those with more obvious roots didn't feel derivative, being very different from the stories they draw from.
A couple of these stories have, I believe, been published before on the author's website. Even if you've read them there before, I feel that it is still worth picking up a copy of this book. Not only are the other stories very much worth reading, but the added illustrations and care put into the overall design of the book makes it very worthwhile.
It isn't really necessary to have read any of the books in the Grisha Verse to enjoy The Language of Thorns – this includes the original Grisha Trilogy as well as the Six of Crows Duology. These stories are all fairy tales at heart, the sort of myths and legends that have shapes humanity for millennium. Sometimes a place name is mentioned, but not very often. If you haven't read any of Leigh Bardugo's other works and are interested in this, I would highly encourage you to pick up The Language of Thorns.
The Language of Thorns: Midnight Tales and Dangerous Magic is an incredibly versatile work that will have fans of both Bardugo's other series and fans of fairy tales, myths, and legends clamoring for more. I highly recommend adding this book to your own to-read lists.