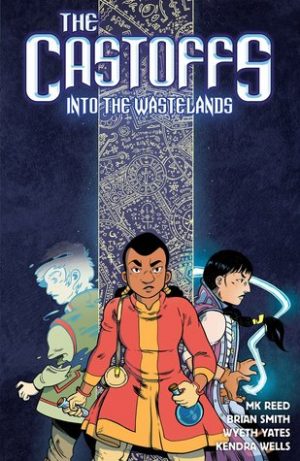 The Castoffs Vol 2: Into the Wastelands
By:
M.K. Reed; Brian Smith
Release Date:
October 24, 2017
Publisher:
Lion Forge
Series:
The Castoffs #2
Received From:
Publisher
(All reviews are our own, honest opinions.)
Rating:
During the Get Graphic Readathon I read an early copy of The Castoffs Vol. 2: Into The Wastelands by M.K. Reed and Brian Smith. The Castoffs is a graphic novel series filled with magic, mechanical enemies, and a trio of girls who go from adversaries to friends.
I had the opportunity to read volume one of The Castoffs a few months ago. When the opportunity arose to read an early copy of volume two I simply couldn't turn it down. As always, major spoilers will be avoided, but minor plot points will be discussed (nothing that wouldn't be on a dust jacket).