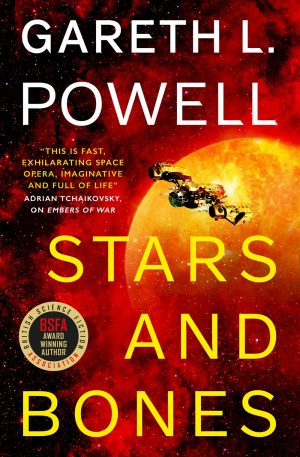 Stars and Bones
By:
Gareth L. Powell
Illustrator:
Julia Lloyd (Cover Design); Shutterstock (Images)
Release Date:
February 15, 2022
Publisher:
Titan Books
Series:
Stars and Bones
Received From:
Publisher
(All reviews are our own, honest opinions.)
Rating:
Multi-BSFA-award-winning author Gareth L. Powell brings us a new science fiction novel in the form of Stars and Bones: A Continuance Novel. Set in an entirely new universe from the previous Embers of War series, this novel sees sentient spaceships, incredible arks carrying humanity through the skies, unknown worlds, and a healthy dose of cosmic horror. Shown most of all, perhaps, is Powell's unparalleled ability to create fascinating sentient spacecraft—and a truly incredible knack for finding the best names for them.