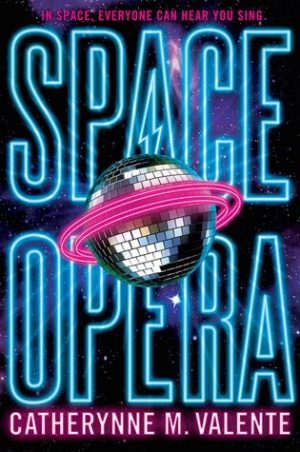 Space Opera
By:
Catherynne M. Valente
Release Date:
April 10, 2018
Publisher:
Saga Press
Rating:
Okay. So. Space Opera. Wonderful, glorious Space Opera. It has been a long time since I loved a book this much or devoured it quite so quickly. I originally listened to the audiobook on hoopla. When the hardcover copy came in the mail a few weeks later I immediately read the whole thing cover to cover. Is Space Opera by Catherynne Valente that good? Well, yeah. It is.
This book is fun. Really fun. It's not very long, incredibly readable, and makes you shake your head, squeal in delight, laugh out loud, and gasp in astonishment all at the same time. It's a love letter to Eurovision and Douglas Adams. Its bold and brilliant and very sparkly and I absolutely love it pieces. Now, let me see if I can gather my thoughts and explain exactly why.
From the very first line the style and humor is apparent. This is a fun, funny book and the comparisons to Douglas Adams are apt. It is a book that is just fun to read, plain and simple, with funny moments everywhere.
Our main character is Decibel Jones, Dess to friends, and the star of Decibel Jones and the Absolute Zeros, the band chosen to attend an intergalactic singing competition to prove the human race's sentience and ensure their continued existence. Dess is a fantastic character, one I loved almost instantly.
Long sections explore the universe, its planets, and the species that call it home. Wars have been fought, entire species risen and fallen, in the time humans were completely unknown to the rest of the universe. Humans are new to the party, so we get a good, long look at all of the rest of the fantastic beings in the universe.
You know what these sections reminded me of? Doctor Who. Specifically the way in which the tenth doctor, played by David Tennant, will go on about crazy, fascinating, baffling species and planets that are never shown on screen. It's that excitement, fervor, and wonder with which these beings are explained. And, again like doctor who, we don't see all of them. Not at first, at least.
Yet for all its weirdness and silliness, it touches on certain immitigable truths, the sort of foundational moments in a person's life that change everything, that form the ways they think and act but are so often overlooked by everyone else around them. The way in which, for example, Dess describes how his family ignored and then laughed at him when first tried to show off his singing when he was six years old, and the fear of rejection and being ignored on stage that he carried with him through adulthood and his whole career. These truths, these beautiful and heartbreaking moments are touched upon again and again, ringing true through the silliness and the fun of the story.
And that's sort of what the story's about. Yes, this a book about a singing competition to keep the planet and prove humans are sentient beings. And yes, it explores all of the wild, fascinating creatures that populate the sentient universe. But it is a story about people, too. A story of a once famous band that's lost a member to an accident long ago. A story about two people who blame themselves and one another, two people who can't communicate exactly what they think or how they feel. It's a story of people growing older and changing too much or too little, of trying and failing and trying again anyway even when it's hard and you're faced with possible species wide annihilation and terrified.
Space Opera

 by Cathrynne M. Valente is a beautiful story, and a fun one as well. It's a fast read, one filled with style and humor. If you haven't read this yet, you absolutely must.