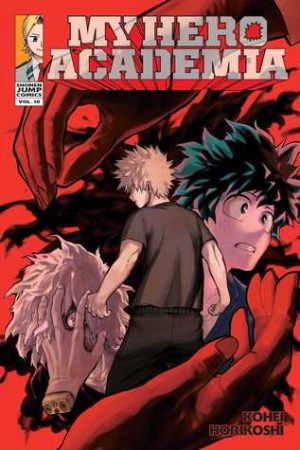 My Hero Academia Vol. 10
By:
Kohei Horikoshi
Release Date:
(Original Japanese) September 2, 2016; (English) November 7, 2017
Publisher:
VIZ Media
Series:
My Hero Academia
Received From:
Publisher
(All reviews are our own, honest opinions.)
Rating:
Happy Manga Monday everyone! I think it's safe to assume that's we've all been waiting on the edge of our seats for the release of the next volume of My Hero Academia. Well, that day is tomorrow and I am here with an early review of My Hero Academia Volume 10 by Kohei Horikoshi.
This is usually the part of the review where I link up my reviews of previous volumes of series and give a disclaimer on how I'll try to be as spoiler free as possible. Well, due to the brand new Manga Monday for the blog, a backlog of reviews for all nine previous volumes in the series, and a release date of tomorrow I decided to go ahead with Volume 10's review first. Reviews of previous titles will be posted, however, and I'll update this section accordingly.