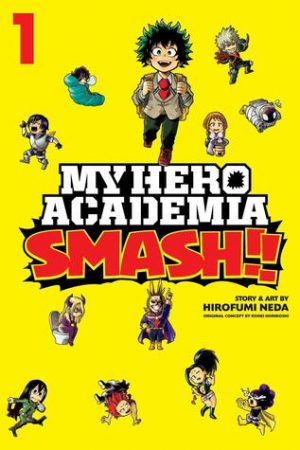 My Hero Academia: Smash!!, Vol. 1
By:
Hirofumi Neda (story), Kohei Horikoshi (original concept)
Illustrator:
Hiofumi Neda (art); Kohei Horikoshi (original concept); John Hunt (touch-up and lettering); Julian [JR] Robinson (designer)
Translator:
Caleb Cook
Release Date:
August 6, 2019
Publisher:
VIZ Media LLC
Series:
My Hero Academia: Smash!! #1
Received From:
Publisher
(All reviews are our own, honest opinions.)
Rating:
The lastest spinoff of hit manga and anime My Hero Academia to be translated into English by Caleb Cook has finally hit shelves. My Hero Academia: Smash!!, Vol. 1 is created by Hirofumi Neda and Kohei Horikoshi. Unlike the series proper or other spinoff, My Hero Academia: Vigilantes by Hideyuki Furuhashi and Betten Court, this manga is a humorous four panel adaptation. Attention is divided between humorous takes on major story beats and some of the quieter moments in between.
This is a proper 4-koma(four panel) manga. Each comedic strip consists of four panels running vertically down the page. Scenes are short, sweet, and rather to the point. However, these are grouped into chapters which create larger scenes or span the course of some major arcs within the first few volumes of the manga (or the first season of the anime).
As with anything comedic, the humor can be rather subjective to the reader. By and large, the jokes land fairly well. However, the first half of the manga can be a bit hit or miss. The second half feels much more consistent in tone, and I found it much easier to get through. Some of the panels in this section are quite memorable, downright laugh out loud funny. If you are finding this manga difficult to get through, I'd suggest skimming part of the second half. There could be some hidden gems in there you'd enjoy.
While My Hero Academia: Smash!!, Vol. 1 by Hirofumi Neda and Kohei Horikoshi didn't prove to be quite as memorable as most of the other My Hero Academia spinoffs, I did enjoy it. I do want to see what direction further manga in this series take. If you like My Hero Academia this probably something you'll want to pick up.