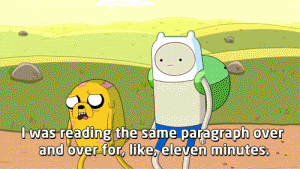 By:
Release Date:
Publisher:
Rating:
It's perhaps one of the worst things that can happen to a bookworm. A reading slump.
For the last month or so I've been stuck in a pretty bad slump. I have many books on my to be read pile which, is taller than me, and I want to read them. I really want to. When I sit down to do just that, what happens? Nothing. I can't focus. I can't get into the story. Take away the usual challenges us bookworms face (unable to get comfortable, bad lighting, etc) and multiple those things and their frustration by a thousand and you will have entered the frustration of a reading slump.
So, below are some ways I've found that help break out of a reading slump. While none of these are fool proof and my slump isn't over yet let me tell you I'm much more ready to settle in with a good book now than I was this past weekend when I resorted to doing nearly all of these things.
Switch Genres
This one is simple. If you've been reading about witches and wizards but can't get into the next fantasy series or part of a current series take a break! I know for me this is difficult, especially if happens mid-series (I always feel obligated to read start to finish, no other books in between) but lately this is the trap I've fallen into. So, while I liked Leigh Bardugo's first book in the Grisha Series, Shadow and Bone I had a hard time getting into it. The writing is good, the plot is interesting but I'd been so far into the fantasy realm lately that I didn't recognize that I needed a break from it.
Read something light
Sometimes, if switching genres doesn't work, I find reading a novella (whether from the same genre or different) will metaphorically wet my whistle and get me excited to read more ASAP. I found this particularly effective when reading the Selection Series by Kiera Cass. The novellas in between the books (The Prince, The Guard, The Queen and The Favorite) were exactly what I needed when I was in between the actual books and trying to get into the next one. Not only did they give a bit more about the characters from the main story but it made me even more intrigued by the main story line which, as an author, is exactly what you want readers to feel.
Read reviews
This is huge for me and sometimes this will make or break a slump. If I see someone raving about a new book my interest is piqued. When I see many people freaking out over the same? Well, the old adage of "How can X number of people be wrong?" stands true here. If I see a high average rating on GoodReads and a lot of in depth, fun reviews, I'm more likely to pick up that book and dive right in.
Re-read an old favorite
Sometimes you need to remember why you love reading. I mean, we all know it's amazing and a great way to spend your time. However, when you're in a slump you're often discouraged about books and reading in general. In my case I feel guilty that I'm not reading with so many books on my pile (and reviews to write for this blog). So, sometimes you need to reset and go back. For me sometimes it's Harry Potter. Other times I've gone way back and read The Outsiders by S.E. Hinton because I distinctly remember reading this book twice in one day.
Switch up how you read
Sometimes holding a physical book is part of the problem. If you can't get comfortable you might give up. Try an e-reader. Try an audio book. Anyway to get the story in your mind and refocus on the love of storytelling  will sometimes be enough to snap you out of it.
Get some recommendations
Whether you go on GoodReads, ask a librarian, ask a bookstore associate or turn to a trusted friend (I'm looking at you, Kate) sometimes you just need someone to push a book in your hands and say "this one." And, most of the time, those people are right.
Watch a book based movie or show
Whether you watch the 2016 movie Girl on the Train, the Netflix series 13 Reasons Why, or any number of the books turned cable TV show (Pretty Little Liars, Recovery Road, Shadowhunters, etc) sometimes you just need the visual handed to you. I know plenty of people out there think like me and say "I can't watch that until I read the book first." Well, if you're in a book slump, when exactly do you think you'll get to the show or movie?
Set the mood
Mood is important. Have a reading chair or, in my case, nest. Have water, tea, coffee and snacks near by. Make sure the room you're in is at a comfortable temperature. If you like it cold so you can be under a blanket while you read, open the window or lower the temperature in your home. If you like it warmer, sans blanket, dress warm and cozy or raise the temperature. Make sure the lighting is exactly how you like it.  Most importantly, don't let other distractions enter your mind. Put your phone aside (or turn it on silent mode). Play soft music. Whatever you need to enjoy your much deserved down time.
Focus on your goal
If you've set a reading goal for the year (like I have) sometimes you need to remind yourself of that. And while you can't force yourself out of a slump sometimes focusing on the goal can help. For me, despite my reading slump, I have promised myself to read for at least twenty minutes a day. Some days it's a struggle and some days I've found myself reading well beyond those twenty minutes, if only to finish the chapter.
Reorganize your shelves
For me this is a last resort kind of thing. Generally that's because I'm very…let's call it particular, about how my shelves are organized. While I love the color coded shelves or genre specific shelves you see on Instagram and other social media platforms I just can't bring myself to do it. For me, reorganizing generally means going through and pulling out the books I think I'll want to read next, dusting off my shelves and enjoying my extremely tall to be read pile. While my friends and family are visibly concerned at such a pile, for me it is a physical representation of a challenge to myself. And I never turn down a reading challenge.
What are your tips for getting over a reading slump? Anything that always works for you? Let us know in the comments below!