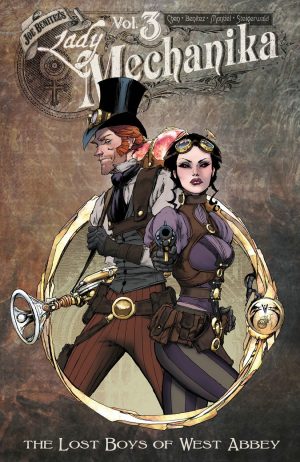 Lady Mechanika Vol. 3: The Lost Boys of West Abbey
By:
M. M. Chen; Joe Benitez
Release Date:
May 16, 2017
Publisher:
Benitez Productions
Series:
Lady Mechanika #3
Received From:
Publisher
(All reviews are our own, honest opinions.)
Rating:
It wasn't too long ago that I discovered the Lady Mechanika graphic novel series, and its one I've come to look forward to reading each time I find a new volume. When I had the opportunity to read an early copy of Lady Mechanika Vol. 3: The Lost Boys of West Abbey by M.M. Chen and Joe Benitez, I jumped on it.
Lady Mechanika is an engrossing steampunk adventure told in graphic novel format, and is a series I would recommend to all fans of both steampunk and graphic novels. This volume continues to follow the adventures of Lady Mechanika and her friends and companions. Lady Mechanika takes an interest in a new case after Winifred finds the headline in the newspaper. Children have been found murdered in Mechanika City, and, if that weren't enough, they all have connections to mechanical experiments.
The artwork is, once again, absolutely stunning. This alone will keep me coming back for more each time. The design and color pallet choices hold a certain mastery that isn't quite attained by ever graphic novel or comic I stumble across. The characters are quite chatty, however. Some of the pages feel a bit too cluttered with dialogue. There are almost paragraphs instead of sentences in some places, which can make getting through a single page take longer than usual. A bit ironic, really considering the overall length of the volume.
The characters are both memorable and endearing. Mr. Lewis has returned for this adventure, being notably absent in the second volume. His niece, Winifred, first introduced in volume 2, has also returned. Volume 3 seeing the introduction of a new character as well, this time not a relative of Mr. Lewis. Singh is a detective who is also investigating the murders. Despite not having very many pages to get to know him, I quite liked Singh's character. Mechanika and Singh make a good pair, and, I hope he's included in future installments.
The story feels less fleshed out than previous books in the series, and for good reason. At only 63 pages long its almost one hundred pages shorter than both the first and second volume in the series. Everything is over before the story has really begun. While I really liked the introduction of the new character, we don't have time to really get to know him. And there is only one real fight scene as opposed to numerous ones in previous volumes.
Even so, the story is much stronger and held my attention much more fully than volume 2. We go back to more plot relevant happenings as opposed to the more generic globetrotting and friend saving of the previous volume. Mechanika's background is once again touched upon if not fully explored. The current case she is working on have brought nightmares with it, only Lady Mechanika can't fully tell if they are normal nightmares or if she is finally beginning to remember the parts of her past which have been long forgotten. I can only hope we will see this developed further in future volumes.
I greatly enjoyed Lady Mechanika, Vol. 3: The Lost Boys of West Abbey. It was a fun tale that was more in tune with the first volume in the series than the second one. If you like graphic novels, steampunk, and strong female main characters check this series out. If you don't like steampunk or don't like very chatty characters in your graphic novels you may want to skip this one.