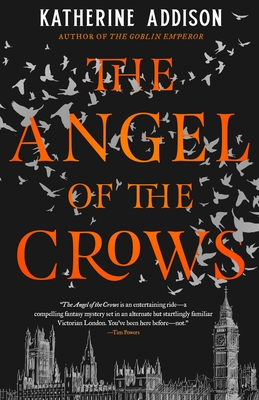 The Angel of the Crows
By:
Katherine Addison
Website:
https://www.fantasticfiction.com/a/katherine-addison/
Release Date:
June 23rd, 2020
Publisher:
Tor Books
Rating:
If you are a fan of historical fiction and alternative history writing this story is definitely for you. Also, if you are a fan of Sherlock Holmes then this story is 100% even more for you.
Now, before moving into the story itself there are a few things I wanted to clear up as I found them out for myself as I finished this novel. First, the author Katherine Addison is the same person as the author Sarah Monette. It appears that for different genres and topics Monette has applied her pen name Addison, so keep that fun fact for yourself if you want to read more of her writing. Second, and this is direct from the author herself in the Author's Note – The Angel of the Crows began as a Sherlock wingfic fanfiction.
Now, to talk about this wonderful book itself. I am, admittedly, a fan of all things Sherlock Holmes so to see a reimagining of the story with different characters (Crow being Sherlock and Doyle being Watson) was fun for me. The explanation for why the characters are the way they are fits so well that I found myself smiling wide. Crow, being an angel whose domain is all of London, thus explaining his heightened senses and sometimes odd behavior as Sherlock, is wonderful in his odd ways. Doyle, much like Watson, is suffering from a leg injury and from having been in the war however his injury is of a spectral nature as he was attacked by what is known as a Fallen angel i.e. one that is now filled with dark, nefarious energy and power.
Throughout this book we cover the well-known Sherlock Holmes stories of "A Study in Scarlet," "The Sign of the Four," and "The Hound of the Baskervilles," but Addison didn't stop there and also had our heroes join the hunt for Jack the Ripper.
Honestly while I wish some lesser-known Sherlock tales had been picked or that things had been reworked a bit more to make them feel new or extremely different I did enjoy the way that Addison connected the dots between these classic stories and our newly reimagined characters.
If you're a fan of Sherlock Holmes, alternative history or the idea of these characters being redone in a way that breathes new life back into these classics I would definitely suggest you pick up this book. While it wasn't life altering it was a quite enjoyable read and I was impressed with Addison's style. I may be picking up her other works soon.