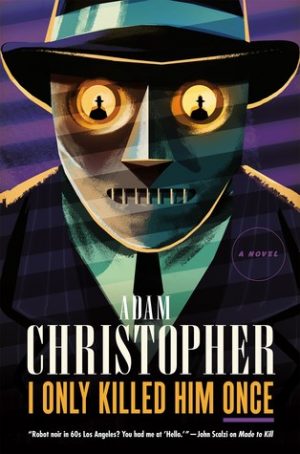 I Only Killed HIm Once
By:
Adam Christopher
Release Date:
July 10, 2018
Publisher:
Tor Books
Series:
Ray Electromatic Mysteries #3
Received From:
Publisher
(All reviews are our own, honest opinions.)
Rating:
Today, July 10, 2018, marks the release of I Only Killed Him Once by Adam Christopher, the third and final novel in the Ray Electromatic Mysteries series. This is a great science fiction noir mystery series featuring the very last robot in operation working as a hit man using the cover of a private detective when unwanted eyes begin to pry.
If interested, you can find our reviews for the first book in the series here and the second book here.
In this novel Ray Electromatic wakes up with a fresh reel of tape for 24 hours of new memory and a man in a black hat in the front room. The man feels familiar, even if Ray can't remember him. He comes with a warning, not a job. If something's amiss Ada, the supercomputer who runs things, isn't talking. Things quickly go for bad to worse as Ray's memory ticks down to zero.
This was a great conclusion to the Ray Electromatic Mysteries series. Ray is just as fantastic a character as always. His voice is unique, and he a genuinely fun character to follow on adventures. This particular case proves to be a difficult one as things quickly spiral beyond Ray's control.
Ada is missing for a good portion of the novel. This means that Ray is truly on his own. The well timed phone calls from Ada are gone. Details to the hit Ray's supposed to be carrying out are largely missing. Ray is forced to figure things out completely on his own, going back to earlier days when he worked as a PI. This is complicated due to limited memory space. If he knew more details yesterday it was all wiped when a new reel was installed during the night.
All loose ends are wrapped up in this third novel. Questions that have lingered from book one are finally addressed. We get more information as to Ray's creation and the various robotics divisions encountered in the previous two novels.
Now, I don't want to say too much about this novel. The books in this series are on the shorter side of the page count, and being the last of three novels room for accidental spoilers abounds. Needless to say, I very much enjoyed this series. Ray is a very welcome voice, a fun, hardboiled detective with a great personality. He's very reminiscent of old noir film detectives, a feeling that permeates each book. the novels themselves are very atmospheric.
I must acknowledge the author's sheer skill in making Ray and Ada so very likeable and relatable. They're nothing more than a robot and a supercomputer, after all, even if they were patterned after humans. The way in which the virtual clink of a spoon in a ceramic cup can fill a silence and relay the feelings of a character is absolutely wonderful.
Though the Ray Electromatic Mysteries may be over, I am surely going to be seeking out more of Adam Christopher's books. If you have not read any of the Ray Electromatic Mysteries, I would highly suggest picking up the first book of the series. Unlike some of the other mystery novels I've read, I do suggest reading these books in publication order. I Only Killed Him Once by Adam Christopher was a great conclusion to the series, and a book I highly recommend.