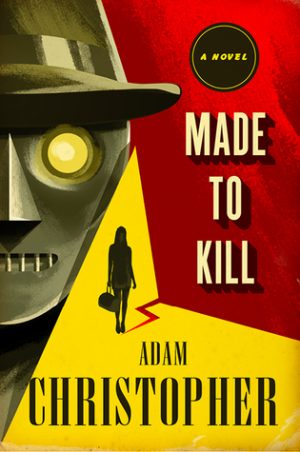 Made to Kill
By:
Adam Christopher
Website:
http://www.adamchristopher.co.uk/
Release Date:
November 3, 2015
Publisher:
Tor Books
Series:
The L.A. Trilogy, Book #1
Rating:
I can't begin to describe how happy I was when I first found Made to Kill by Adam Christopher. I was in the library right after Fallout 4's Far Harbor DLC was released, and really wanted to find a book somehow involving cyborgs, androids or the sort as main characters. (Because Nick Valentine is a great character, and I need more of that in my life.) And lo! Right there, directly at eye level was Made to Kill with a robot on the front cover just begging me to read it.
The story is about Ray Electromatic, the very last robot still in operation. Ray, a former detective, has turned to the life of an assassin. Along with the supercomputer/secretary that keeps him running, Ray finds himself part of a case that isn't as straightforward as it first appears.
Made to Kill is the perfect combination of science fiction and noir mystery. The tale is told from Ray's point of view. And, while he may not be very similar to Nick Valentine, he is a fantastic character who feels more human than many of his actually human companions. Ray is the very last robot, the rest having been decommissioned due to people finding them generally uncanny as opposed to helpful. This means he comes with some setbacks. The greatest of these is a limited memory, the reels that store his day to day activities only lasting for around a day. Ray is on a race both to solve the mystery set before him and to be beat his clock.
Ray is hired for not one, but two jobs. And these jobs tangle together dangerously, leaving a treacherous path for Ray to walk. But he can't just walk away from this. He won't. What ensues is a wonderful traditional noir mystery tangled wonderfully in an alternate history California with a dash of science fiction on top. It is a book that's fast paced, not terribly long, and will appeal to readers of a wide set of genres.
Made to Kill by Adam Christopher is a fantastic beginning to the Ray Electromatic series. I would highly suggest picking up a copy, especially if you're a fan of mysteries, noir, science fiction, or alternate history.
If you're interested in what I thought about the rest of the series, you can find reviews of the following Ray Electromatic books on this blog:
Standard Hollywood Depravity – #1.5 (novella)
Killing is my Business – #2 (novel)
I Only Killed Him Once – #3 (novel, final book)