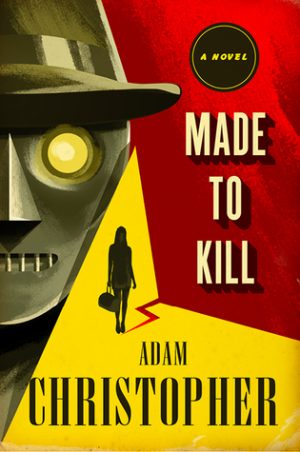 Made to Kill
By:
Adam Christopher
Website:
http://www.adamchristopher.co.uk/
Release Date:
November 3, 2015
Publisher:
Tor Books
Series:
The L.A. Trilogy, Book #1
Rating:
I can't begin to describe how happy I was when I first found Made to Kill by Adam Christopher. I was in the library right after Fallout 4's Far Harbor DLC came out, and really wanted to read something with a cyborg main character. (Because Nick Valentine is awesome, and I need more of that in my life.)
And, lo! Right there, directly at eye level was Made to Kill with a robot on the front cover and just begging me to read it. So I skimmed the synopsis, piled another book or two on the pile, and immediately checked it out. Checkpoint passed, game saved, achievement acquired!
But what did I think of it?
The book didn't disappoint. It's a science fiction and noir mystery rolled into a ball of wonderful. This is the first book in a series, but the end wraps up very nicely. We learn who-dun-it, and everything's more or less okay. If you want to read without the fear of needing to commit to yet another series, don't worry. It's just fine as a standalone novel.
And no, the main character isn't much like Nick Valentine (sorry guys), but he is a robot. The last robot. The rest have been turned off and decommissioned because people found them, well, creepy. They were human-like, only off. Sales fell, and now Ray is the only one left.
One of the things I really liked about this was how it addressed issues, especially considering the year it's supposed to be in this alternate version of America. Every night the robot must be shut off – he runs out of power and memory after a certain number of hours. Probably. It's a bit vague, after all, as the supercomputer that oversees Ray doesn't seem to always tell him everything. He doesn't mind terribly, he's an assassin after all, detective as far as the phone book's concerned. Now he's been hired for not one, but two jobs that tangle dangerously. And, to boot, someone seems to be after him.
If you like mysteries, science fiction, or alternate history you should definitely read Made to Kill.
Read If:
You enjoy noir mysteries, you enjoy science fiction, you like some light alternate history

Don't Read If:
Robot main characters irk you, mystery isn't your thing, you don't like first person narration