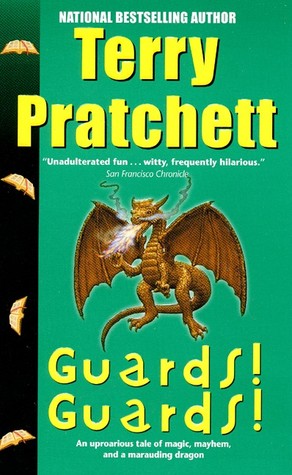 Guards! Guards!
By:
Terry Pratchett
Website:
http://www.terrypratchett.co.uk/
Release Date:
1990
Publisher:
Random House
Series:
Discworld Book #8, City Watch #1
Rating:
Happy Throwback Thursday!
Here's an embarrassing admittance for a self-dubbed fantasy aficionado. I've never read Discworld. (Which probably means my dream of being the foremost knowledgeable human on fantasy novels is just a fleeting dream I'll never really achieve. Not with this kind of performance). Not one of the forty some odd books. I've read Good Omens, Terry Pratchett's collaborative work with Neil Gaiman. But I've never picked up a single Discworld novel.
So, what did think of my first foray into Discworld?
Guards! Guards! was my first foray into Terry Pratchett's Discworld. It is the eighth book in the series overall, but the first novel in the Line. I figured it was as good a place as any to start, picked up the book, and immediately wondered what was wrong with me and why hadn't I picked this up sooner.
There is a reason Terry Pratchett is a giant in fantasy. It became immediately clear why.
Pratchett is a master of words. Never have I seen so much action, so much description conveyed through dialogue alone. Every character was memorable. Every character was chock full of personality and quirks. Vimes, the captain of the watch. Carrot's unwavering bravery and naiveté. The Patrician, who I only really fully appreciated near the end. And, perhaps my favorite, the Librarian who met with an unfortunate accident and is now an orangutan forever more.
The book is funny, at times. It's insightful, too. It has some really beautiful lines, the sort that make you smile. And it has some lines that make you give a funny sigh and say 'ain't that the truth'.
And I am very happy that I read it.
If you're looking for a good place to start with Discworld, this is it. It didn't feel like the eighth book in a series. There weren't characters that everyone but you seemed to know. There weren't plot threads solved before you were aware of their existence. In fact, Guards! Guards! is the beginning of one of Discworld's sub-cycles. It's a great place to start if you're looking to delve into the admittedly massive Discworld series.
This is a very good book by a very good author. I would highly recommend that anyone who hasn't already read Guards! Guards! to grab a copy and read it immediately.
Read If:
you like fantasy, you're looking for a new series

Don't Read If:
you don't like switching points of view, you don't want to get invested in a very long series (its extreme, even for fantasy)