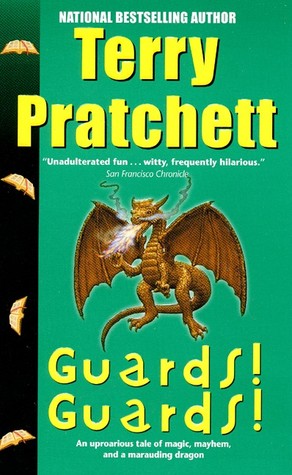 Guards! Guards!
By:
Terry Pratchett
Website:
http://www.terrypratchett.co.uk/
Release Date:
1990
Publisher:
Random House
Series:
Discworld Book #8, City Watch #1
Rating:
Happy Throwback Thursday!
Here's an embarrassing admittance for a self-dubbed fantasy aficionado. I've never read Discworld. (Which probably means my dream of being the foremost knowledgeable human on fantasy novels is just a fleeting dream I'll never really achieve. Not with this kind of performance). Not one of the forty some odd books. I've read Good Omens, Terry Pratchett's collaborative work with Neil Gaiman. But I've never picked up a single Discworld novel.
So, what did think of my first foray into Discworld?