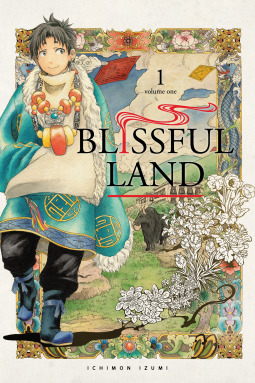 Blissful Land, Vol. 1
By:
Ichimon Izumi
Illustrator:
Ichimon Izumi; Carl Vanstiphoutl (Lettering)
Translator:
Christine Dashiell
Release Date:
November 27, 2018
Publisher:
Kodansha Comics
Series:
Blissful Land
Received From:
Publisher
(All reviews are our own, honest opinions.)
Rating:
The Blissful Land, Vol. 1 by Ichimon Izumi is a very slow, lovely slice of life manga centered around a 13-year-old boy, Khang Zhipa, who is apprenticed to his father, the town's doctor. It is a sweet, slow manga that is more iyashiki than slice of life. Iyashikei, for those who are unaware, are very slow manga that focus on the everyday activities of people, the tiny, happy moments in life, and nature as a calming, healing read. The emotional and plot driven stakes are virtually nonexistent, instead presenting the reading with a very calm, mellow story.