Here it is, the long awaited Top Reads of 2018 list. I read a lot of books this year – 224 of them according to my Goodreads list. I'm not exactly stingy with 5 stars, either. If it's a great book, then I'm going to give it a high rating. And I gave 4.5 to 5 star ratings on a whopping 50 books. I've managed to whittle that list down a bit since then and while still it might not be a short list, but it's certainly more manageable than before! All of these books have been published in 2018 in the United States, though several were published prior in other countries.
So, without further ado, here are my Top 2018 Books in no particular order.
The Oyster Thief by Sonia Faruqi
This is a novel about the mermaid Coralline, the human Izar, and the collision of their worlds. Coralline is searching for a miraculous cure for her younger brother. Izar holds many secrets, all of which seem to circle back to Coralline, her home, and her people. With beautiful prose and extraordinarily real characters, I couldn't help but fall in love with this book. This is a fantastic debut novel by an author whose future novels I will be sure to seek out.
The Arrival of Missives by Aliya Whiteley
This a novella that falls somewhere between historical fantasy and science fiction, and one that is certainly not to be missed. The reader is swept along the path to adulthood along with Shirley, a young woman who aims to marry her young schoolteacher who's returned injured from the recent war and, in turn, become a teacher herself after going to a nearby college. But Mr. Tiller holds a secret, on he'll readily let Shirley in on though it comes at a price. The prose is lyrical, beautiful, and immerses you completely in a small, claustrophobic town set at the end of the first world war.
Guest post by author Aliya Whiteley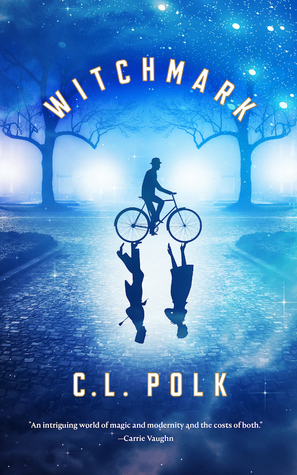 Witchmark by C.L. Polk
How can you say no to witches, magic, handsome immortals, all set in a pseudo Edwardian England? Miles is a witch, a secret he must keep at all costs lest he be committed to a witches' asylum. However, when a poisoned witch dies in his care he must find the culprit with the aid of the unnaturally handsome Sir Tristan, a magic user with secrets of his own whom Miles immediately falls in love. With magic, government secrets, family secrets, and the messy aftermath of war, this book was absolutely impossible to put down.
Space Opera by Catherynne M. Valente
This book was so utterly fantastic I read it twice within two months. It's that good. One hundred years ago the Sentience Wars ravaged the galaxy, threatening all life. Now, problems are handled differently – by Metagalactic Grand Prix, something best described as Eurovision in Outer Space. Chosen to represent Earth are Decibel Jones and the Absolute Zeroes, a group which broke up long ago with a headliner who's all washed up. This is a wild, funny, and at times immensely beautiful book.
Dragon Goes House-Hunting, Vol. 1 by Kawo Tanuki and Choco Aya
What's a dragon to do when he gets kicked out of his home? Go house-hunting, of course! Letty the dragon isn't so great at dragon things. He's a bit of a scaredy cat and just wants a safe place to call home. With the help of a slightly evil, very powerful elvish architect, Letty is determined to find a new house. This manga is humorous fantasy at its best, and the book I always needed. It's an homage to fantasy in all of its forms, with plenty of references to video games, tabletop games, card games, and books.
Scales & Scoundrels Vol. 1 and Vol. 2 by Sebastian Girner and Galaad
This is a high fantasy adventure at its finest. Luvander is on the search for a treasure hidden within ancient ruins which no one has ever managed to fully explore. Unfortunately, she's forced to work with Prince Aki and his guard, who wants to prove his worth through adventure, and a Dorma, a dwarf searching for her missing brother. What begins as a straightforward fantasy broadens in scope as the story continues, bringing us to fantastic places and interesting people.
Full Review
The Dead House by Billy O'Callaghan
If you're looking for a scary ghost story set on the gorgeous Irish coast, this is it. Maggie is a young artist who's freshly escaped from a very abusive relationship. After a trip to Ireland she falls in love with a tiny house on the coast, a place the locals don't like and no one stays for long. Maggie quickly buys the property and invites her friend and art dealer up for the weekend. After a night filled with fun and alcohol, the friends pull out a Ouija board. There's something sinister here, something that won't go away.
The Rig by Roger Levy
A whopping 615 pages, this book took a little while to get through, but I remained riveted for every single page. In the far future humanity is connected through AfterLife, a system which allows the anonymous viewing of a deceased persons deeds and vote on whether or not they deserve a second chance at life. The story is sets in two timelines – one during the current day where things are beginning to spiral out of control and one involving the creators of AfterLife. The two plot lines are tightly interwoven, the emotion raw and heartfelt, and the planets visited so incredibly different.
My Brother's Husband, Vol. 2 by Gengoroh Tagame
This is an utterly beautiful manga centered around a Canadian man named Mike who travels to Japan in order to connect with his deceased husband's twin brother. There is an immense amount of heart and emotion within these pages. Yaichi slowly comes to understand his brother-in-law, his brother, and how it wasn't his brother who changed and grew distant, but himself. It is a wonderful look at what builds a family, acceptance and learning how to accept others, and is filled with absolutely beautiful and heart wrenching moments.
The Silent Companions by Laura Purcell
The grand, mouldering Bainbridge mansion is to be Elsie's new home. Unfortunately, it is also the location of her new husband's untimely death, a locked attic room, and secrets. In the attic are life-sized wooden people, one of whom looks suspiciously similar to Elsie, and the diary of another woman who married into the Bainbridge family two centuries earlier. With gorgeous writing, this Victorian ghost story was downright terrifying in places. I adored this book, and highly recommend giving this a read.
Go For It, Nakamura! by Syundei
Nakamura fell in love with his classmate Hirose upon first sight. But Nakamura is clumsy, shy, and doesn't have many friends. The first step to love? To at least befriend Hirose, no matter what. This manga was adorable, funny, slice-of-life, and a great one-volume story. The art is rather different, too, being of a style similar to that of late 80s to early 90s manga.
From Unseen Fire by Cass Morris
Magic in an alternate ancient Rome is a surefire way into a former art historian's heart. This is a sweeping political fantasy set in an ancient Rome where the dicator has just died. Various factions are vying for power, the country is on the brink of war in the north, civil war is a very real possibility, and the magic which could potentially help the country remains oppressed and shunned. Unique and filled with interesting characters, this is the start to a new series I can see quickly becoming an all time favorite.
The Embers of War by Gareth Powell
An old warship, sentient and bred for violence, tries to atone for her role in a devastating war by joining a group which rescues ships in distress throughout the galaxy regardless of loyalty or faction. With a ragtag crew and their captain Sal Konstanz, they go off in search of a luxury liner that's gone missing. However, things aren't all as they seem, and the straightforward rescue mission spirals into something far more dangerous than the Trouble Dog or her crew have seen since their days at war. This is the first book in a new series, and I absolutely cannot wait for the next one.
Beneath the Citadel by Destiny Soria
The very last book I read in 2018 has proven to be one of the absolute best. Cassa is the daughter of rebels, people who fought against the corrupt council only to be massacred. With the torch of rebellion passed on to her, Cassa is determined to put an end to the council once and for all. The fact that her and her friends have been captured and are about to be put to death is of no concern to her – she knows she'll escape and she'll do anything to win. With a unique magic system, wonderful characters. The stakes are high and your heart will be equally warmed and broken. I highly recommend picking up this book.
(A review will be posted soon.)