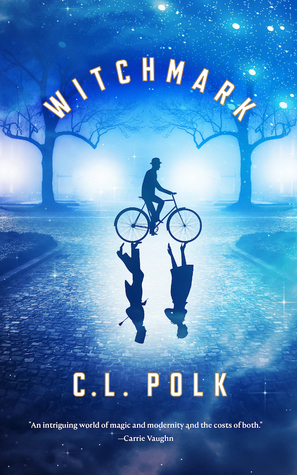 Witchmark
By:
C. L. Polk
Release Date:
June 19, 2018
Publisher:
Tor.com
Series:
The Kingston Cycle
Received From:
Publisher
(All reviews are our own, honest opinions.)
Rating:
This book has been sitting on my kindle waiting for me to read it for quite some time. Now, my only wish is that I'd gotten to it sooner. Witchmark by C. L. Polk is an absolutely fantastic novel about magic, love, family, war, and the bonds between siblings.
Our narrator is Miles, a young man who ran away to medical school, was swept up in the war between Aeland and Laneer, and now practices psychology in a veteran's hospital instead of the field surgery he started with. But when a fellow witch is poisoned and dies on Miles' operating table he is drawn back into the world of magic he was once desperate to escape. His freedom is at risk, fate is closing in on him, and Miles is tasked with the poisoned man's dying wish – to expose everything.
This is a murder mystery, a tale of magic, a story about the abuse of power, and a love story. Though it begins with many threads, all of the plot lines weave together seamlessly into an exciting, fast paced tale. All of the right notes are hit. The characters are wonderful, three-dimensional characters. The world is fleshed out. The magic system is unique. And I cannot recommend Witchmark enough.
The story is set in Aeland, a country very similar to Edwardian England at the end of the First World War. These similarities are used to the book's advantage. We generally understand the society and technology of the age, and little time is taken out for the sort of long descriptions and explanations that long time fantasy readers are used to. The real difference between our world and this imagined one is the prolific use of magic, even if it is frowned upon. Witches are common in Aeland, though they are said to inevitably go insane and are quickly locked away in asylums. Miles is a witch, one who has run from his family and the fate that awaited him … right into the middle of a war he'd rather do anything to forget.
It is from Miles's first person narration that the story is told. The majority of the story is told over the span of about a week. During this time, Miles is expected to turn out all of the patients in his ward to make way for the soldiers returning home from war regardless of their mental states. The poisoned man who died in his care, a fellow witch no less, entrusted Miles with his dying breath to expose the truth and finish his work. A task Miles must complete with the extraordinarily handsome Sir Tristan, with whom he is head over heels.
The stakes are ever increasing on multiple fronts. The family Miles left long behind barge back into his life. The puzzle of the poisoned man takes dramatic, unforeseen turns. Tristan has an extremely important quest of his own. And Miles and Tristan's mutual attraction isn't something that can be ignored. This is the sort of book that can't be put down. It's fast paced with dramatic stakes for all involved with characters that are very easy to love (or hate).
More than this, it is a story with a lot of heart. It is a story that talks about family, and how far a person is willing to go for them, even when the personal cost is great. It's a story about sibling bonds, the things that test them, and the things that might break them. It's a story about love and acceptance. Heartstrings are tugged, sometimes when it isn't expected.
Though the pacing is fast, it isn't necessarily at breakneck speed. Sufficient time is given to explore the characters and their relationships with one another. The ending does ramp up in speed and tension, as most climaxes do, keeping readers on the edge of their seat.
I cannot recommend reading Witchmark by C.L. Polk enough. This is an amazing story of magic, love, and mystery. It is the sort of book that has something in it for everyone. I adored this novel and cannot wait for the next book in The Kingston Cycle.