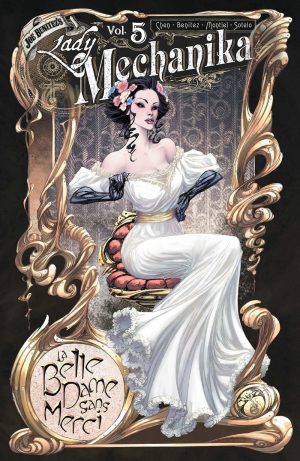 Lady Mechanika, Vol. 5: La Belle Dame Sans Merci
By:
Joe Benitez, M. M. Chen
Illustrator:
Martin Montiel, Beth Sotelo
Release Date:
May 14, 2019
Publisher:
Benitez Productions
Series:
Lady Mechanika
Received From:
Publisher
(All reviews are our own, honest opinions.)
Rating:
We find ourselves back in Lady Mechanika's steampunk London once again. Finally, our protagonist's creator seems to be coming out of the shadows, but all is not well with inventor Archibald Lewis. And so kicks off Lady Mechanika, Volume 5: La Belle Dame Sans Merci written by M. M. Chen and Joe Benitez, and with art by Martin Montiel and Beth Sotelo.