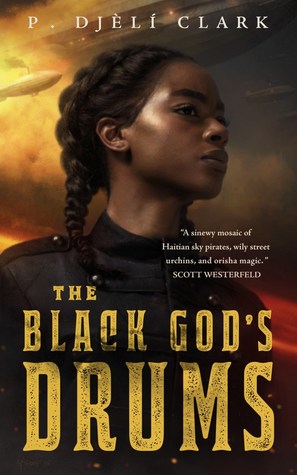 The Black God's Drums
By:
P. Djeli Clark
Release Date:
August 21, 2018
Publisher:
Tor.com
Rating:
Nominee for Best Novella in the Hugo Awards, Nebula Awards, and Locus Awards as well winner of the ALA Alex Award, The Black God's Drums by P. Djeli Clark is sure to entertain. Clark, author of 2019's The Haunting of Tram Car 015, has an unparalleled ability to weave an exciting, atmospheric tale that sweeps readers away on pure adventure. In a novella just over the one hundred page mark, it is all the more impressive.
Creeper is a young teenager living on the streets of New Orleans. What she truly wants is to take to the skies on one of the great airships that make port in the city. An overheard conversation from her sleeping spot on the streets gives her the leverage she needs to try and secure passage aboard the smuggler ship Midnight Robber. Captain Ann-Marie is more than a little interested in the kidnapped Haitian scientist and his weapon known as The Black God's Drums. But there are other secrets Creeper keeps. Oya, the African orisha of storms, grants Creeper great powers and speaks within her head. But Oya isn't so much helping as she is following her own agenda in the matter between Creeper and the smuggler Captain Ann-Marie.
The New Orleans of this story is that of an alternate late nineteenth century America. Airships dock in the ports and hints of magic flow through everyday life. The city is a neutral place in a divided United States. The Civil War isn't over, not really. With the aid of magic, the Union and Confederacy have fought to a standstill. Weary soldiers from both sides are allowed within the city and expected to behave themselves no matter how deep their grudges or hatred run.
It is here we find Creeper, a teenage girl living on the streets, getting by with petty thievery and dreaming of getting on one of the steamships that frequent the city and traveling the skies. Soon after the story opens, Creeper gets involved with a smuggler airship captain and the planned kidnapping of a prominent Haitian scientist. This scientist's greatest creation is The Black God's Drums, the great weapon which won the Haitian Revolution. Now, someone else wants it, someone that should never have it. All the while, Oya, the orisha who has graced Creeper with powers, has its own plans to follow. The power of storms and wind which Creeper has been bestowed can be both a blessing and hindrance.
This novella sweeps the reader into a wondrously imaginative world. Characters are very vivid, with lots of personality and growth. Main characters receive a decent amount of background as well, something which never diverts too long or takes away from the momentum of the story. What first appears as a chance meeting between Creeper and Captain Ann-Marie feels much less so as the story continues. Unknown to Creeper at the time, she has ties to the captain, ones much stronger than either first realize.
While The Black God's Drums is a tale of adventure and magic, it is also quite a lot more than that. It is a story of magic, but also one of coming to terms with not only the sheer power they are able to wield but the responsibility that comes with it. It is a story of people following their dreams and ambitions, sometimes at any cost.
New Orleans, the great neutral city, and its people may also not be quite as neutral as they try to remain. With the weapon that won a revolution hanging in the balance and its creator kidnapped, sides must be taken – even the simple act of freeing the scientist is itself taking a side. Captain Ann-Marie is the most stark example of this. As a smuggler, not only is she a criminal, but one who doesn't have quite as stark a moral compass as she could have. This is echoed in Creeper's petty thievery. Yet, both are much more complicated than they first appear. Using a situation to suit her own needs changes into a mission of great importance for Creeper.
The Black God's Drums by P. Djeli Clark is a fantastic novella exploring a steampunk New Orleans in an alternate history that is sure to delight readers.


If interested, you can find my thoughts on P. Djeli Clark's other novella below:

The Haunting of Tram Car 015 by P. Djeli Clark