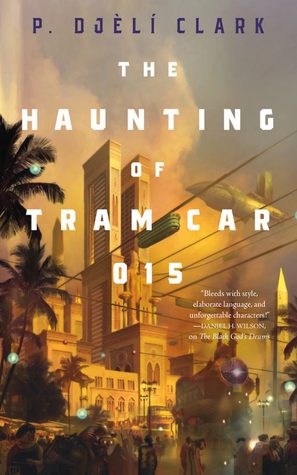 The Haunting of Tram Car 015
By:
P. Djeli Clark
Release Date:
February 19, 2019
Publisher:
Tor.com
Rating:
The Haunting of Tram Car 015 by P. Djeli Clark is a fantasy novella set in a 1912 Cairo that is ripe with magic, djinn, and a haunted tram car. Set in the same universe as Clark's short story A Dead Djinn in Cairo, it is a real treat that you don't want to miss. I haven't had so much fun reading a book since Catherynne Valente's Space Opera.
The story opens in 1912 in a Cairo unlike our own. Years prior, a portal between our world and the world of magic was opened. Now, djinn walk the streets, magic is commonplace, and Europe has been thrown out of the region once and for all. This is the scene painted when the story opens. Hamed al-Nasr is a detective of sorts, working for the Ministry of Alchemy, Enchantments, and Supernatural Entities, and is tasked with investigating issues that arise that are at all connected to magic. This time he and his new partner, the new Agent Onsi, are called in to investigate a haunting. But nothing is ever as straightforward as it seems, as Onsi is quick to learn.
The backdrop is one of incredibly rich, vivid detail. A world where magic and technology exist together is blended with the social change and innovations of the early 20th century. Behind the haunting is a subplot of a governmental vote to allow women the right to vote. A rich, vivid world is painted, one I wanted to linger in far beyond the end of the story.
A myriad of fantastically detailed characters bounding with personality move between the pages. There are djinn and being that, until recently, were more legend than anything else. Strong, proud women host demonstrations for the right to vote.
The mystery itself was fun. What appears to be a simple open and closed case quickly grows outside of its original scope. This case isn't going to be quite as fast or on budget as the pair first believed, forcing them to some creativity in how to fix the problem of the haunted tram car.
The audiobook version of this novella was absolutely stellar. The narrator,
Julian Thomas, was utterly fantastic in his role. I was hooked from the very beginning, and will definitely be seeking out other stories Thomas has narrated. I cannot recommend this version enough.
This is the sort of book that hooks you from page one. The world is beautiful, filled with magic, feels utterly alive, and makes you want to linger for just a little longer. You can't help but smile at a story like this. You can't help but want more.
The Haunting of Tram Car 015 by P. Djeli Clarke is a fun, memorable novella and a must read for all fans of fantasy. I cannot recommend this book enough.