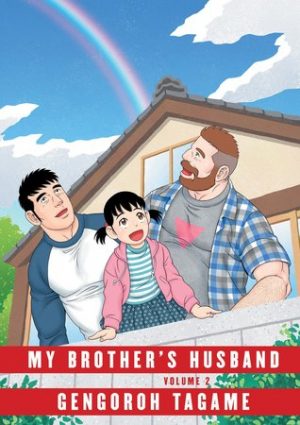 My Brother's Husband Vol 2
By:
Gengoroh Tagame
Illustrator:
Gengoroh Togame
Translator:
Anne Iishi
Release Date:
September 18, 2018
Publisher:
Pantheon
Series:
My Brother's Husband
Received From:
Publisher
(All reviews are our own, honest opinions.)
Rating:
If there is any manga whose release date I've been looking forward to it would be My Brother's Husband Vol 2 by Gengoroh Tagame. I was so ecstatic when a review copy was sent that I read the whole thing cover to cover as soon as I pulled it out of the packaging. My Brother's Husband is a story about family, loss, grief, guilt, and acceptance. It is a story we can all relate to in our own ways, and it is a story that demands to be read.
My Brother's Husband Vol 2 continues the story of Mike, Yaichi, and Kana. Plot in a nutshell – Yaichi's divorced and his somewhat estranged brother recently deceased. One day Mike, a Canadian man and his brother's widow, shows up on his doorstep looking to connect with the family he never knew.