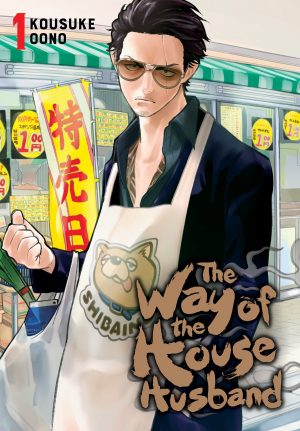 The Way of the Househusband, Vol. 1
By:
Kousuke Oono
Illustrator:
Kousuke Oono
Release Date:
September 17, 2019
Publisher:
VIZ Media LLC
Series:
The Way of the Houshusband #1
Received From:
Publisher
(All reviews are our own, honest opinions.)
Rating:
Slice of life manga The Way of the Househusband, Vol. 1 by Kousuke Oono is sure to bring a smile to many faces. This is the story of Tatsu, a former yakuza known as "the Immortal Dragon." But those days are long gone. Now, he's married to a career woman and is a househusband.
This is a comedic slice of life manga that focuses on Tatsu's everyday life as a househusband. The series begins after Tatsu's marriage, long after his yakuza days are over. Each chapter tells its own story. While in linear order, there isn't necessarily an overarching plot. Instead, we follow a simple slice of life formatting that lends itself well to the comedic nature of the manga.
Tatsu might not be part of the yakuza anymore, but, as it turns out, you can't take all of the yakuza out of him. A tall man, his stature, gait, and facial expressions alone readily identify him more as a yakuza than the mild mannered househusband he's become. Tatsu takes on his responsibilities as a househusband with intense furvor and dedication. His days are carefully planned out, and each duty tackled with gusto. However, his yakuza tendencies lead to hilarious situations with store clerks, neighbors, and household items. Tatsu attacks household chores and everyday activities with every bit the sort of intensity one would expect of the yakuza. Department store sales are battlefields. And one hilarious situation follows another.
We meet a few other characters throughout the manga. Tatsu's wife is every bit his match. We don't get too much of their background. How they met and became a couple is largely left unexplored in this first volume. What we do see is the everyday domestic life between the couple. Running late for work and trips to the grocery store highlight the couple's personality and interactions.
A former member of Tatsu's yakuza group is another frequent character, as are members of rival yakuza groups. Tatsu's hapless former gang member finds him on accident one day when Tatsu's out shopping. The past keeps seeming to find Tatsu, yet he doesn't allow himself to go back to his old ways, confounding old friends and foes alike.
Questions about Tatsu's old life, how he met his wife, and what prompted such a significant life change remain. These will most probably be tackled throughout the next few volumes released. The Way of the Househusband, Vol. 1 by Kousuke Oono is a humorous slice of life that will keep you smiling. If you're looking for something quick and lighthearted, this is a manga you definitely won't want to miss.