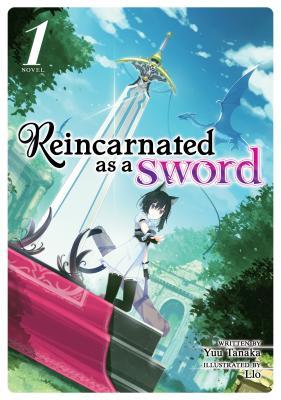 Reincarnated as a Sword, Vol. 1
By:
Yuu Tanaka
Illustrator:
LLO
Translator:
Mike Rachmat (translator); Jaymee Goh (Adaptation)
Release Date:
August 6, 2019
Publisher:
Seven Seas
Series:
Reincarnated as a Sword (#1)
Received From:
Publisher
(All reviews are our own, honest opinions.)
Rating:
An isekai light novel with a twist, Reincarnated as a Sword, Vol. 1 by Yuu Tanaka and illustrations by LLO is one of the latest, utterly fantastic releases in the genre. A delight to read from start to finish, Reincarnated as a Sword embraces the best aspects of isekai, video games, and traditional fantasy and combines them into something truly memorable. This particular light novel is part of the growing subgenre of 'reincarnated as an inanimate object' with Reincarnated as a Sword being a rather imaginative inclusion.
When a thirty-year-old Japanese businessman is reincarnated, he finds himself in a fantasy world, but as an intelligent, magical sword. Unlike other series, there is no opening section featuring our protagonist as a human. Instead, we meet our protagonist after he's been reincarnated as a sword stuck in an altar in a beautiful, open field. However, there are a myriad of monsters and other creatures, some of whom try to steal the sword for themselves.
There is a bit of a slice of life feeling to this light novel. Our protagonist, who remains nameless until meeting his wielder, doesn't always feel human any longer. Its goal is to grow stronger by killing enemies and leveling up. Eventually, the sword finds itself a wielder in the form of a young beast girl named Fran in a sort of mutual rescuing.
Tension and multiple plots build naturally as the protagonist learns more about the world, runs into more characters, and visits new places. What begins as an interesting slice of life with a single recurring character builds a full cast of interesting, memorable characters. World building occurs naturally, with the protagonist learning much on his own, deducing things as he encounters new monsters, people, and places.
While the story could have easily fallen into standard tropes, it always manages to glide right past them. Instead of egregious fan service, our protagonist thinks of his young wielder only as a child he has to protect – a particularly welcome deviation from many other titles. While Fran's abilities could be easily seen as overpowered, it remains clear that her rise in levels is a mixture of reflexes of being cat-like and the effects of using a magical sword.
Nods to other series appear from time to time, always enough to bring a smile but never enough to be egregious. Black and white illustrations by LLO are scattered throughout the volume.
Reincarnated as a Sword, Vol. 1 by Yuu Tanaka is a truly excellent new addition to the isekai genre. No matter how saturated the genre could be, there will always be room for wonderful stories such as this one. Do yourself a favor. Read this series. You will not be disappointed.