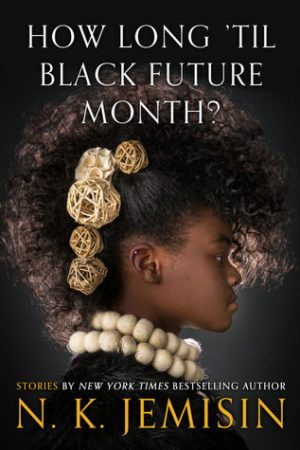 How Long Till Black History Month
By:
N. K. Jemisin
Release Date:
November 27, 2018
Publisher:
Orbit
Award:
Locus Award for Collection, Nominee for Short Story for "Cuisine des Mémoires" and "The Storyteller's Replacement" (2019); World Fantasy Award Nominee for Best Collection (2019); ALA Alex Award (2019)
Rating:
Featuring a variety of short stories in fantasy and science fiction genres, How Long 'til Black Future Month is a collection for fans of N.K. Jemisin and those new to her work. Previous books by Jemisin include the Hugo Award winning series The Broken Earth, as well as the Inheritance Trilogy and Dreamblood series.
How Long 'til Black Future Month is a collection of over twenty short stories in a variety of speculative fiction genres. Readers are transported around the globe and to different worlds entirely. Included is the Hugo Award nominated short story "The City Born Great."
Certain stories are more impactful than others, but all are wonderful tales in their own rights. One of the tales that stood out strongly for me was "Valedictorian," a story about a young woman in a dystopian world.
The prose is utterly beautiful, painting pictures of world both fantastic and frightening. There are undercurrents of both fury and hope throughout the volume. Even in the face of terrifying dystopian worlds characters don't back down, stop, or give in. This anthology is teaming with wonderful stories filled with amazing characters.
Though this is the first work of Jemisin I've read, it certainly won't be last. How Long 'til Black Future Month by N. K. Jemisin is an absolutely fantastic collection of short stories and novellas. I highly recommend checking out this anthology, and cannot wait to explore more of Jemisin's work in the future.