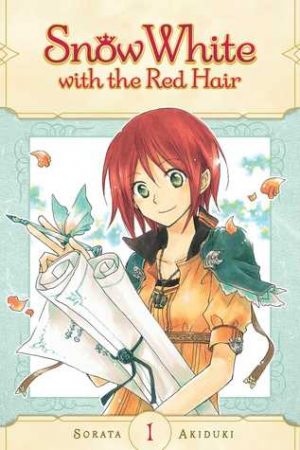 Snow White with the Red Hair, Vol. 1
By:
Sorata Akiduki
Illustrator:
Sorata Akiduki (Illustrator); Brandon Bovia (Touch-Up art & Lettering)
Translator:
Caleb Cook
Release Date:
May 7, 2019
Publisher:
Viz Media LLC
Series:
Snow White with the Red Hair
Received From:
Publisher
(All reviews are our own, honest opinions.)
Rating:
Snow White with the Red Hair, Vol. 1 by Sorata Akiduki is a fantasy manga that inspired a two season anime adaptation of the same name. This is the mangaka's first series, her other work being the series Manual to Teenage Life.
The story isn't so much an adaptation of Snow White as it is inspired by it. Notes from the author included within the volume speak to this. What is found is the story of a strong willed young woman who works as an herbalist. When the prince of the kingdom hears of the red haired beauty he is determined to make her one of his concubines. However, Shirayuki is determined her life will go in a different direction. Cutting off her hair, she flees the kingdom, crosses the boarder, and finds an unlikely friend in the form of Zen, the second prince of the neighboring kingdom.
A wonderful, sweeping fantasy is borne in this first volume. While much of the story focuses on the budding romance between Zen and Shirayuki, just as much emphasis is put upon Shirayuki's continued learning about herbalism and attempts to become employed by the court.
The manga does fall into some of the pitfalls of all first works. Pacing is largely too fast. The first chapter hooks readers, but not enough time is spent with the characters. The romance blooming between Shirayuki and Zen feels very insta-love-y simply because very little time is spent on the quieter moments between the two characters. In similar fashion other events are glossed over and relayed through dialogue only – Shirayuki getting settled, housed, and apprenticed in a foreign land for example.
Still, the story is engaging. There's something that draws readers to the characters. Shirayuki is strong willed, determined, smart, and an overall wonderful protagonist. Zen is a likeable character whose disinterest in courtly affairs and endless paperwork is tempered with support of and belief in his friends along with the ability to play courtly games when necessary.
At the end of the volume is a one-shot manga centering around a boy and girl who meet one summer. It is a quick, lovely little tale that's worth giving a read. Snow White with the Red Hair, Vol. 1 by Sorata Akiduki is a story fans of fantasy manga will certainly want read at least a volume or two of. I very much want to see what direction the manga takes and how the manaka evolves her storytelling through subsequent volumes. However, I must admit that where the manga sometimes falls short the anime shines, and wholeheartedly recommend giving it a watch.