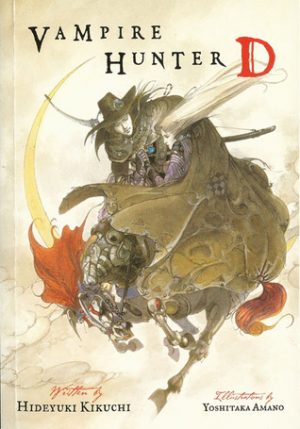 Vampire Hunter D Vol 1
By:
Hideyuki Kikuchi
Illustrator:
Yoshitaka Amano
Translator:
Kevin Leahy
Release Date:
March 10, 1983; (English) 2005
Publisher:
DH Press
Series:
Vampire Hunter D
Rating:
Fun story. I borrowed a copy of Vampire Hunter D from Hoopla. Since Yoshitaka Amano (of Final Fantasy fame) is the artist, something I was aware of earlier, I assumed this was a manga. Not sure why, seeing as Yoshitaka Amano hasn't illustrated any manga as far as I am aware. (Do correct me if I'm wrong. I'd love to read a manga he's illustrated.) As it turns out, Vampire Hunter D by Hideyuki Kikuchi is a light novel! I love light novels!