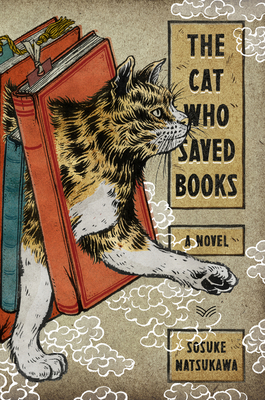 The Cat Who Saved Books
By:
Sosuke Natsukawa
Translator:
Louise Heal Kawai
Release Date:
December 7, 2021
Publisher:
HarperVia
Rating:
Books about books is a genre that many if not most readers often find themselves drawn to. This is true for The Cat Who Saved Books by Sosuke Natsukawa's novel as well. Translated from the original Japanese by Louise Heal Kawai, this is a Japanese novel about Rintaro Natsuki, a young man whose grandfather has recently passed away. His life is immediately upended, as his grandfather was also his guardian.
What ensues is twofold. On the one hand, it is a tale about the very real-world consequences of his grandfather's passing. Rintaro will be moving in with an aunt living nearby who seems very willing to take the young, displaced man into her home and under her wing. As if that wasn't enough of an upheaval, his grandfather's beloved used bookshop is set to close. How can it stay open, after all? Not only has the proprietor passed on, but Rintaro himself is still in school, making it difficult if not impossible to keep the place running properly.
Yet the novel is much more than a tale of grief and loss. Magic seeps through every page in that careful yet utterly natural way found in so much Japanese literature. A strange cat named Tiger appears in the now-closed bookshop one day, saying that Rintaro has to help him. There are books to save, after all, and it's his job to save them.
What follows is not only a tale of oozing with the otherworldly and the physical and metaphorical saving of books, but a look at grief through the eyes of book lovers as well. Each book or library or reader who is saved by this grieving boy and mysterious cat also helps the protagonist as he grapples with the loss of his grandfather and the impending closing of the beloved bookstore.
This novel has moments of absolute beauty, moments where characters speak with such clarity and insight that the words sing off the page, touching a little part of your soul. It's enough to make you tear up, especially at points towards the end, without the novel being overtly sad or melancholy. Much is said on loving books, on collecting and sharing books versus hoarding books, and on how to both let books go and how to hold stories close to your heart.
However, while books are a central theme, the titles discussed do leave one scratching their head. The vast majority of the books discussed are touted as being "great literature," and said to not be seen on many bookshelves, are staples of the Western canon. It was odd not to see the works of Japanese and other Asian authors mentioned, even if some of them would have possibly required a gloss for added reader comprehension. The books discussed are noticeably all from around the same two hundred years, the vast majority of which were written by male authors.
With the field of "great literature" so narrowed, great opportunities are missed in discussing "great books" and what exactly makes a book "great." It's also plain non-inclusive, which is certain to be a turn-off to some readers.
On top of that, this extremely limited smattering of titles discussed makes it feel as if the author missed their own point. Much discussion is had within the text over loving books and stories, what sorts of stories those are, and how these tales are consumed, shared, and preserved. Limiting the books actually mentioned to these years and demographics gives off the impression that books are wonderful, but only these books.
Still, this is a story with magic seeping off its pages and is sure to appeal to book lovers. At a slight two hundred or so pages, it certainly isn't very long, never overstays its welcome, and doesn't wax poetic to any sort of extreme degree. While imperfect, this is a solid read, perfect for a rainy afternoon.