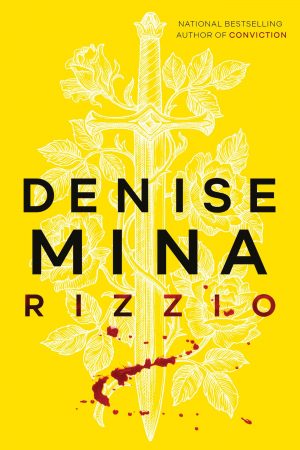 Rizzo
By:
Denise Mizio
Release Date:
September 2, 2021
Publisher:
Pegasus Crime
Series:
Darkland Tales
Rating:
Denise Mina's slim novel Rizzio packs one hell of a punch within a mere 118 pages. The multi-award-winning author brings us a new novel centered on a crime—the murder of Mary, Queen of Scots', private secretary, David Rizzio. This is an utterly outstanding work of literary and crime fiction, one that will keep you at the edge of your seat regardless if you know the true-life story of David Rizzio and Mary, Queen of Scots.
Much of the story takes place within the queen's chambers in Holyrood Palace, the site of the murder and the much of the murder's immediate aftermath. The story is a dark one, centered on a dark episode of Scottish history. The entire novel takes place over a mere few days, largely within the queen's chambers at Holyrood Palace.
The suspense is palpable, oozing through every page. Knowing the history of the real-life event doesn't affect the suspense or psychological aspect. The desperation of Mary, the utter need for events turn out any way besides the inevitable historical outcome is incredibly palpable.
This is what distinguishes every aspect of the tale from similar historical fiction. The character's placement within a room, their movements, are very detailed and stated with surety. The way the light falls in the room, the place a chair has fallen, and a myriad of other details speak to the author visiting Holyrood Palace, something confirmed in the author's notes. This utter surety of location, the depth of research, extends to the characters themselves as well.
Mary does not feel like the almost mythic figure of "Bloody Mary" nor even the "Queen of Scots." She feels like a human being, a person, one supposed immense power at the leader of an empire is closed off and hampered by tradition, ongoing politics, and the men of the court wanting power back in their own hands. Rizzio too feels like a simple human who made friends with a powerful woman and feel in love with the wrong man.
Yet, the villains of the tale feel human too. While they aren't shown in an empathetic light, they are humanized. Lord Darnley—Mary's husband, Henry—is a deeply troubled, self-centered, mistaken man who opens the novel planning a murder versus a being of pure evil. This extends to Lord Darnely's conspirators as well.
For those interested in history, crime fiction, or are a fan of Mina's other works, Rizzio is a novel that absolutely must be read.