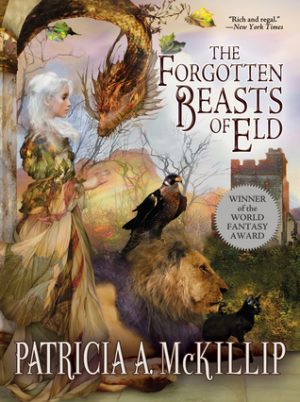 The Forgotten Beasts of Eld
By:
Patricia McKillip
Website:
http://www.patriciamckillip.com/
Release Date:
September 17, 2017
Publisher:
Tachyon Publications
Award:
World Fantasy Award for Best Novel (1975); Mythopoeic Fantasy Award Nominee (1975)
Received From:
Publisher
(All reviews are our own, honest opinions.)
Rating:
Patricia McKillip's novel The Forgotten Beasts of Eld was republished by Tachyon Publications. This World Fantasy Award winning novel is a true treasure, a book that is most definitely worth reading.
The Forgotten Beasts of Eld is a standalone fantasy novel by Patricia McKillip. Sybel is a wizard, the latest in a long line of powerful wizards. She lives atop Eld Mountain, constantly calling the powerful and mystical creatures of long lost stories to her doorstep. Sybel is completely disinterested in the world of men, but that world comes knocking on her door in the form of an infant – a cousin whose mother is dead and whose kingly father, if he is truly the father at all, is apt to kill him. Slowly, Sybel is introduced to the world below, to love, to revenge, and more power than even she thought possible.