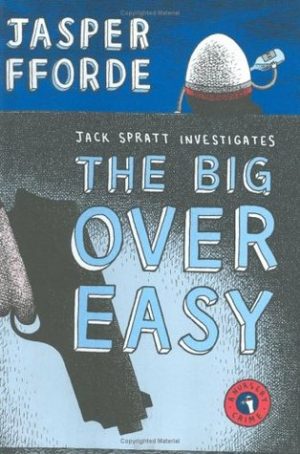 The Big Over Easy
By:
Jasper Fforde
Website:
http://www.jasperfforde.com/
Release Date:
July 11, 2005
Publisher:
Viking Adult
Series:
Nursery Crime #1
Award:
Lefty Award Nominee (2006)
Rating:
There's something almost magical to be said for a library book sale. Are just so many books, and that cash just can't stay in my pocket. I picked up this book on a whim. Never heard of the author before, but the title sounded interesting and it'd been quite some time since I settled down with a mystery story to boot.
I was excited! It sounded so different, so fun! I immediately told my husband, mother, and mother-in-law all about the synopsis. Reactions ranged from 'that sounds kind of familiar' to 'pretty sure I read that, didn't you?'. Apparently I'm the only one who hasn't heard of The Big Over Easy, the author Jasper Fforde, or any of his other books.
The Big Over Easy is the first novel in the Nursery Crime series. It's a wonderful classic detective story set in Reading, England in a world where ever fairy tale, nursery rhyme, legendary, and mythological character is real. It's clever, witty, fun, and I loved every second of it.
This is a traditional detective novel with strong roots in fantasy that is just plain fun. Jack is a decently competent detective in the Nursery Crime Division of the police department. Not many people look favorably upon the position, and most leave the underfunded department after several months at the most, using it as a springboard for more illustrious careers. And that is exactly what Mary is planning on doing. But the NCD has its share of headline making cases too.
Detective Jack Spratt and his new assistant, Mary Mary (a nod to 'quite contrary' fame), are put on a new case. The venerable Humpty Dumpty, businessman and philanthropist, has been found murdered, smashed to pieces beneath his favorite wall. The case is a tricky one, with clues tying to shady deals in Dumpty's past, a slew of ex-wives and old lovers, and some of the most successful businessmen and wealthy elite in the city. Even more difficult is dealing with Spratt's old partner, a detective renowned for his quick crime solving in the face of elaborate, often deadly cases.
While Jack and the rest of Reading are fully aware that Humpty and his other nursery rhyme compatriots are indeed nursery rhyme characters, no one is sure if the characters themselves are aware of this. The gods and semi divine beings, such as Prometheus, are fully aware of their god-like status. The idea of these characters existing in the real world is a good one, and I really enjoyed this aspect of the novel. However, I could never help but feel as if this concept wasn't really fully fleshed out, instead leaving me with questions.
Let me explain.
Nursery Rhyme characters such as Humpty are mentioned as having birthdays. Now, maybe I'm just overthinking this, but I can't help but wonder as to world building mechanics. Prometheus is immortal. But what about Humpty and others? The nursery rhyme characters aren't seemingly handled in the same way, but this isn't something that is ever expounded upon, instead remaining something of a mystery for both the main characters and readers. While this is clever and cute, I can see some people disliking this aspect of the story.
As for the characters themselves, they were are very likable. Jack was very much an every man, an unsung hero and family man. His five children, though not in too many scenes, were all very distinguishable. Their habits and speech patterns all fit their ages, and each had a distinct personality. Spratt's team is also filled with interesting, incredibly quirky characters that were all lovably awkward. However, we didn't quite get too much information outside of their quirks – an alien only speaks in binary, another team member prefers to speak in palindromes. You get the picture.
I was particularly impressed with Humpty Dumpty, though. We never see him alive; the first time we are introduced to the character he is already dead. But through the course of the story we get a very good understanding of his life, passions, and personality. For never being shown in so much as a flashback, we are presented with a surprisingly well rounded character, and I must give the author due credit.
Honestly? I really enjoyed this book. Truly loved every second reading it. But if I am to be honest there were a few times when the book was almost too clever. None of these moments lasted over long, but the nursery rhyme gags are out in full force. For some readers this may be a turnoff, so do be aware of what you're getting into when you pick up the book.
Do I suggest reading The Big Over Easy? Absolutely. It was tons of fun, and I couldn't help but smile at some parts. In fact, once I finished this book, I went back to the library and bought used copies of three more of his books. If you are looking for something a little more whimsical and lighthearted from your run of the mill fantasy story, pick up The Big Over Easy by Jasper Fforde. If nursery rhyme characters and murder mysteries aren't your thing, this book probably won't be for you.