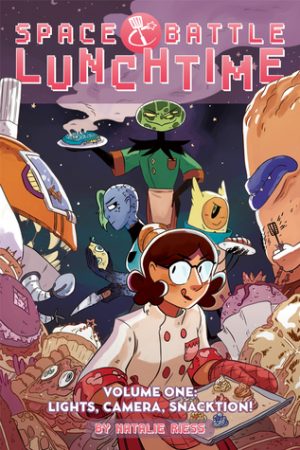 Space Battle Lunchtime Vol 1: Lights Camera Snacktion
By:
Natalie Riess
Release Date:
2016
Publisher:
Oni Press
Series:
Space Battle Lunchtime #1
Received From:
Publisher
(All reviews are our own, honest opinions.)
Rating:
Here's a little known fact. I watch a probably unhealthy amount of cooking shows. Not the ones where they actually show you how to make a dish. Nope. I know I can't cook without the supervision of my mother, even nearing thirty. (Sorry Mom.) I watch all the cooking competition shows. Because, well, everyone has a not quite so guilty pleasure, right? Space Battle Lunchtime, Vol 1: Lights, Camera, Snacktion! by Natalie Riess is everything I never knew I needed in a graphic novel. It's fun, it's cute, it's in outer space, and it's a cooking showdown.
Yes, please.