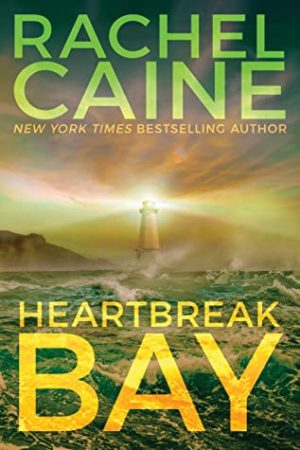 Heartbreak Bay (Stillhouse Lake #5)
By:
Rachel Caine
Website:
https://www.rachelcaine.com/
Release Date:
March 9th, 2021
Publisher:
Thomas & Mercer
Series:
Stillhouse Lake
Rating:
Gwen is still investigating crimes and when she gets a call from her friend Kezia about two bodies of children found submerged in a car in a lake the case becomes personal as the killer continues to hunt for victims that they can drown and silence forever.
While Gwen and her children are moving forward with their lives, along with Sam who is also still working on a better life due to his own ties to Gwen's horrible past, the family of four is challenged on all sides as they try to stay safe, help others and live "normal" lives.
As the killer gets closer to home, and threats are made against people Gwen and Kezia love, they're running out of time to put a stop to all of this. Kezia becoming a more centralized character, allowing the readers to see through her eyes, was a real treat and I was so glad we got to know her better in this book.
We see further character growth in this book, not just from Gwen and her family but from other secondary characters as well. Rachel Caine is the rare author to understand her characters at all life stages and her exact representation of teenagers all the way through grandparents and everyone in between makes every single character feel real, despite the unreal circumstances they find themselves in.
Another important note, definitely do not read this series out of order. Rachel Caine has built these characters from the ground up and you cannot fully appreciate them, their story, or the challenges they face if you read out of order.
As noted in previous reviews of this series author Rachel Caine has finished out this series with Heartbreak Bay being the fifth and final book. Heartbreak Bay was released in March 2021, a few months after Rachel Caine passed away in November 2020 after her battle with cancer. Despite what I imagine was an early end to the series, as I'm sure Rachel Caine could have given us many more stories about Gwen and her family, Rachel Caine managed to round out the series well and give us an amazing final book. We've lost an amazing author in the world and I regret the loss of her talent as a fan of her works.