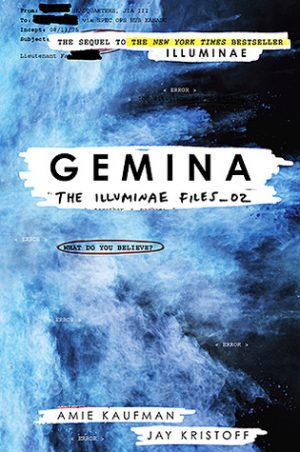 Gemina
By:
Amie Kaufman; Jay Kristoff
Website:
http://amiekaufman.com/ ; https://jaykristoff.com/
Release Date:
October 18, 2016
Publisher:
Knopf Books for Young Readers
Series:
The Illuminae Files #1
Award:
Goodreads Choice Award Nominee for Young Adult Fantasy & Science Fiction (2016)
Rating:
There's something to be said for having a library a block and a half away from my apartment, especially when the nearest bookstore is a half an hour away. It's saved me on more than one occasion when I need the sequel to book I just finished.
This time was certainly no exception. Gemina by Amie Kaufmann and Jay Kristoff was just put on the shelf, the book so new that it didn't yet have a library card sleeve in the back. (Yeah, my library still uses those, only sans the actual library card. Why? Great question.) So I picked it up, brought it home, and read all 672 pages in one sitting to the awe and disbelief of my husband.