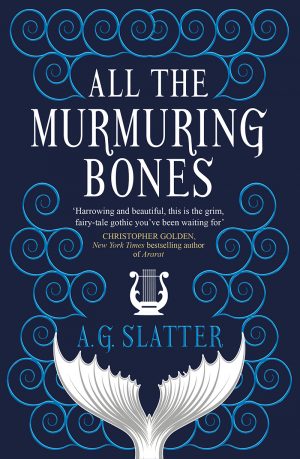 All the Murmuring Bones
By:
A.G. Slatter
Release Date:
April 8, 2021
Publisher:
Titan Books
Received From:
Publisher
(All reviews are our own, honest opinions.)
Rating:
The newest novel by A.G. Slatter, All the Murmuring Bones, is a tale that spans a wide gamut of genres and themes neatly packed into a pretty, blue cover whose curling motif hints at the churning ocean waves that permeate the tale. Slatter is no stranger to fiction, with several other books already under her belt, such as Vigil and Corpselight, as well as compilations of her short fiction. She is also quite the decorated author, with a World Fantasy Award, a British Fantasy Award, a Ditmar, six Aurealis Awards, and an Australian Shadows Award.