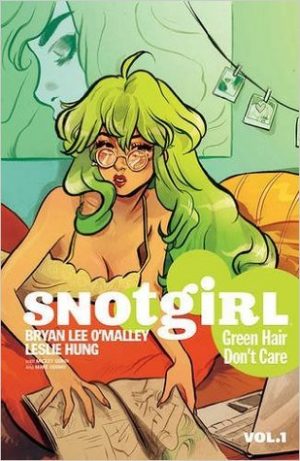 Snotgirl
By:
Bryan Lee O'Malley; Leslie Hung
Website:
http://radiomaru.tumblr.com/ ; http://milkmanner.tumblr.com/
Release Date:
February 28, 2017
Publisher:
Image Comics
Series:
Snotgirl #1
Rating:
A graphic novel I'd heard about on booktube (that's book based youtube videos for any who aren't familiar with the term) and decided to pick up is Snotgirl by Bryan Lee O'Malley (creator of Scott Pilgrim) and Leslie Hung. While having a slight air of mystery about it, this graphic novel doesn't fall into the usual science fiction, fantasy, or horror genres I normally read. This is both a blessing and a curse. I like stretching out of my comfort zone, but at the same time I am often reminded why I enjoy those genres to begin with.