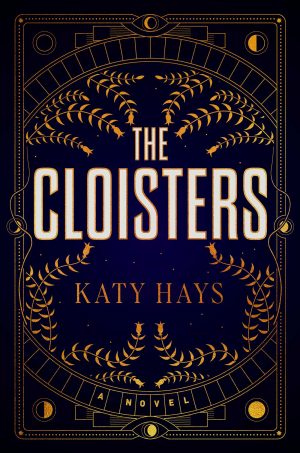 The Cloisters
By:
Katy Hays
Release Date:
November 1, 2022
Publisher:
Atria Books
Rating:
Art historian and author Katy Hays's debut novel The Cloisters is an intensely gothic, gripping tale that oozes suspense. Protagonist Ann Stilwell finds herself in New York City at the Metropolitan Museum of Art with an internship lined up for the summer. Unfortunately, these plans fall through when she learns her would-be boss is off in Europe. Despite the unexpected circumstances, Ann still has a coveted internship, though not at the MET proper.
A fortuitous series of events lands Ann at the Cloisters, a museum consisting of a gothic cloister and the renowned gardens and artwork housed within it. This setting lends an amazing sense of atmosphere to the story. Not only is Ann secluded from the rest of the Metropolitan Museum of Art as the Cloisters is located in a different part of the city entirely, it is an actual cloister, a place inherently isolating and claustrophobic. History and knowledge are locked within along with secrets and the unknown. This is a gothic book; the location is gothic, not Victorian gothic but the original gothic.
Like all gothic tales, The Cloisters is filled with mystery, secrets, and hints of something which may truly be supernatural. Museum curator Patrick Roland is fixated on Tarot cards, specifically a 15th Century set from Italy. Patrick is convinced it holds the secret to unlocking and fully understanding contemporary tarot card reading. Not only will his research be personally fulfilling, it will also be groundbreaking work in the field, the sort of topic that produces research papers, lectures, and prestige.
As the story progresses, the small group of researchers and historians seem to all become a bit obsessed with this deck of cards in their own ways. This is one of the stories themes: obsession. How far is someone willing to go for something they believe in? To what lengths will a person go in order to secure their future? Obsession over jobs, moving up in the ranks, personal projects, tarot, and learning what the future may hold blend together into a tightly woven narrative where career and personal passions blend and meld together into a messy cacophony.
There is a feeling of restraint in the novel—in the prose, in Ann our protagonist, in the interactions between the employees at the Cloisters. This is very purposeful. Many if not all characters are restraining themselves, some very well and others just barely managing it. And as the novel goes on, this restraint begins to crumble. Characters motivations are brought to the forefront. Coworkers don't hold back as much in front of Ann, the newbie. Ambitions strain against one another. Even the prose changes ever so slightly. The tension ramps up, the pacing quickens, and, finally all restraint is let go of as secrets finally begin to reveal themselves.
The Cloisters is an incredibly engrossing book. Despite an intentionally slow pacing, suspense is rung out of every page. Characters' true motivations remain murky. It is an inherently gothic book and one fans of dark academia will find much to love in.