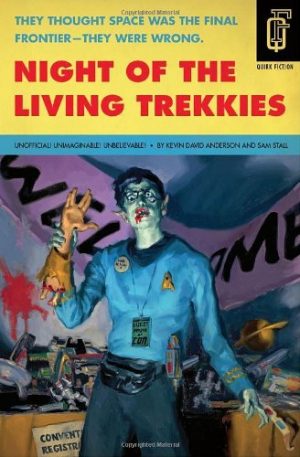 Night of the Living Trekkies
By:
Kevin David Anderson, Sam Stall
Release Date:
September 15, 2010
Publisher:
Quirk Books
Rating:
If anyone is looking to beef up their TBR for the next GarbAugust Readathon, look no further. Night of the Living Trekkies by Kevin David Anderson and Sam Stall is the sort of adventure- and horror-laden fare that makes for an excellent palate cleanser and the perfect sort of book to pick up your mood.
Jim Pike is the manager of a hotel. Now, this isn't the tiny, out-of-the-way motel that would make his job easy. This is a large hotel with enough rooms and event halls to host a Star Trek convention, something that comes with a whole lot of added headaches. No amount of coffee can prepare Jim for the zombie outbreak that occurs, however. All he can do is hope his military training has prepared him enough to face the undead and pray that he and his rag-tag band of companions can escape…and the zombies don't.
Night of the Living Trekkies is a high-octane, blood-pumping, zombie-laden tale readers can eat like candy. Jim's totally over-it attitude is completely understandable to anyone who's had the displeasure of working with the general public during stressful outside-hosted events and the skills to back up plans that sound like something out of a movie. His companions are all interesting individuals as well, bringing a host of talents and quirks to the table whether it be a fleet of star trek uniforms to help them blend into the undead hordes or provide the sort of motivation only a love interest can.
This is the sort of formulaic, high-octane adventure that somehow always feels like a comfort read. There's something magic about books like these, the kind of books you read that you know you'll have an excellent time with no matter how many times you read it. And with all the trials and tribulations of adulthood—let alone whatever's in the news—it's safe to say that we all need a little more zombie slaughtering at sci-fi conventions in our lives.
In all, Night of the Living Trekkies by Kevin David Anderson and Sam Stall is a highly recommended short novel that is sure to bring a smile to many a reader's face.