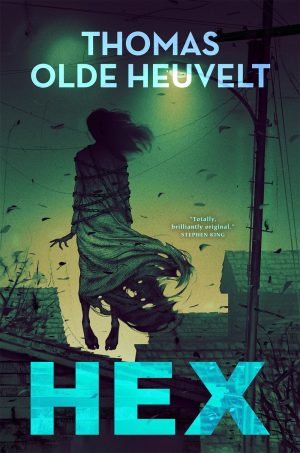 Hex
By:
Thomas Olde Heuvelt
Release Date:
September 21, 2021
Publisher:
Tor Nightfire
Series:
Robert Grim #1
Rating:
Horror author Thomas Olde Heuvelt flexes his abilities to leave readers shaking in terror in his latest novel, Hex. Traditional hauntings, the reverberations of the US's witch trials, and an exploration of the darker aspects of humanity are blended beautifully into a novel that is simultaneously unputdownable and will have you sleeping with all the lights on. Like many books that rise above their brethren, Hex is much more than the sum of its parts.
Black Spring is one of the small towns that dot the Hudson Valley, the sort of place built on the bones of a tiny seventeenth-century town, as so many are. Like all towns with a deep history, not everything about this seemingly idyllic place is wholesome. The Black Rock Witch haunts the town, showing up in living rooms and hovering at bedsides as she pleases, and the fact that no one seems to leave town when they grow up isn't a testament to the town's sense of community. There's a curse on Black Spring, one that the town's older residents will do anything to keep quarantined. They're just trying to keep their friends and neighbors safe, even if it does feel like the isolated surveillance state is quickly spiraling into something dark and medieval.
The residents of Black Spring are very used to their ghost. When the Black Rock Witch appears, people simply drape tea towels over the gruesome face of the witch and go about their business, giving the ghost a wide berth. There are rules and guidelines that are strictly followed, things that have become second nature and don't interrupt their lives. Real humor lingers in the opening pages, and readers are given a much different viewpoint of ghosts.
Yet, the town is stalked by this ghosts, and its residents are clearly terrified. A slow, creeping sense of wrong quickly invades the novel, leaving readers and resident Tyler Grant unnerved. Local teenagers unhappy with the status quo and surveillance state type paranoia their parents keep barely hidden do what all teenager do—push back.
Events spiral quickly out of control. The book examines events from multiple points of view, shifting to various townspeople as events begin to spiral out of control and paranoia takes hold. Mysteries abound, each of which focuses on different aspects of horror—the atrocities of the past, hauntings, us versus them mentality, and many more. Mysteries begin layering atop one another as well, leaving characters to figure out what actually happened to the Black Rock Witch so long ago, why the leaders of the town act the way they do, and what the supposed curse the town has been placed under.
Every mystery, every new horror culminates in a horrific, edge-of-your-seat conclusion that will give even the most seasoned of horror readers a run for their money. Subplots and loose threads are masterfully woven together, none of which are forgotten.
If you only read one horror novel this year, make it this one. Hex delivers everything it promises tenfold. Despite its size, the novel never feels too long or as if it overstays its welcome, remaining a page-turner right up until the very last page.