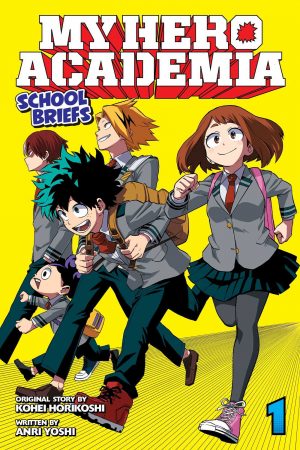 My Hero Academia: School Brief, Vol. 1: Parents' Day
By:
Anri Yoshi; Kohei Horikoshi (idea)
Illustrator:
Kohei Horikoshi
Translator:
Caleb Cook
Release Date:
April 2, 2019
Publisher:
VIZ Media LLC
Series:
My Hero Academi: School Briefs
Rating:
My Hero Academia is a superhero manga that has taken the world by storm. Since the manga's 2014 debut in Shonen Jump, it has acquired two spinoffs – My Hero Academia Vigilantes, following a group of vigilante heroes, and My Hero Academia Smash!!, a comedic four panel rendition of moments not shown in the manga. Now, a light novel is also available starting with My Hero Academia: School Briefs, Vol. 1: Parents' Day. Written by Anri Yoshi based on Kohei Horikoshi's series and ideas, this story takes place after the student's internships as they prepare for Parent's Day.