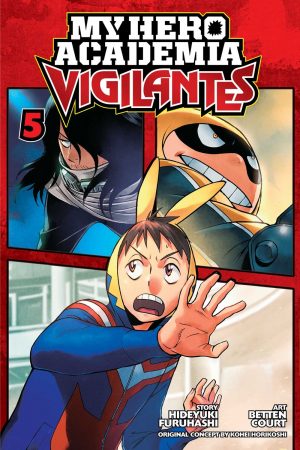 My Hero Academia: Vigilantes, Vol. 5
By:
Hideyuki Furuhashi
Illustrator:
Betten Court
Release Date:
July 2, 2019
Publisher:
VIZ Media LLC
Series:
My Hero Academia: Vigilantes #5
Received From:
Publisher
(All reviews are our own, honest opinions.)
Rating:
The fifth installment of the My Hero Academia spin-off series My Hero Academia: Vigilante, Vol. 5 by Hideyuki and Betten Court was released summer 2019. This volume brings certain elements from the first arc to conclusion, and introduces new elements which will certainly be explored further in the future.
The majority of volume 5 takes place directly before and during Narufest – a concert event held atop a shopping mall roof. Pop Step is invited to perform at the local event, which she agrees to with Koichi assisting. But trouble is brewing in another part of the city, trouble that Knuckleduster has handled.
The Narufest arc is both fun and interesting in many ways. At once there is the issue of preforming and keeping people calm in the wake of a possible villain attack, and the more mundane issues surrounding Pop Step and her performing. The audience, for the most part, knows much more than any one of the characters in this situation – both hero and vigilante. This was a fun aside too, with the heroes readers are so very familiar with from the main series being completely overlooked by our favorite vigilantes while in their street clothes.
An important part of being a vigilante is explored in the volume that hasn't been touched on before – when to hang up the proverbial cape. Knuckleduster's reason for vigilantism is concluded in this volume, and we see what happens when that occurs – at least for one unofficial hero.
At the same time, the rift between heroes and vigilantes seems to be growing even as certain characters from both sides grow closer. This is highlighted more in the secondary arc in this volume when Koichi and the others meet Fat Gum. Certainly, this will be something seen explored further moving forward, which I am certainly looking forward to.
I am extremely interested in where this spin-off series is going, especially with many of the aspects of the first arc coming to a conclusion in this volume. My Hero Academia: Vigilantes, Vol. 5 by Hideyuki Furuhashi and Betten Court is an amazing spin-off of My Hero Academia which absolutely deserves to be read.