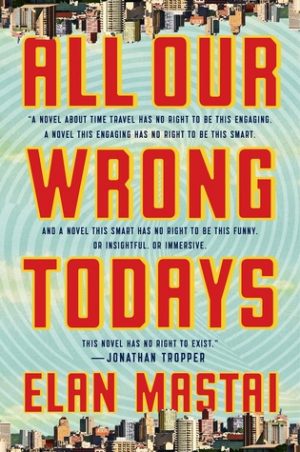 All Our Wrong Todays
By:
Elan Masai
Website:
http://www.elanmastai.com/
Release Date:
February 7, 2017
Publisher:
Dutton
Received From:
Publisher
(All reviews are our own, honest opinions.)
Rating:
If old movies and TV shows were to be believed the year 2000 would have us living in a veritable technological utopia. There would have been flying cars, tech made for everything from making breakfast to getting dressed, and the world would look more or less like that of the Jetsons. Only, what if they were right? What if we were supposed to have that future? Only Tom Barren, the not-quite-so-genius son of the definitely-genius Victor Barren, leading expert on time travel, made one rash decision (well, one really important rash decision along with all the other, smaller ones) and doomed that world to forever grace the pages of science fiction, never to be born.