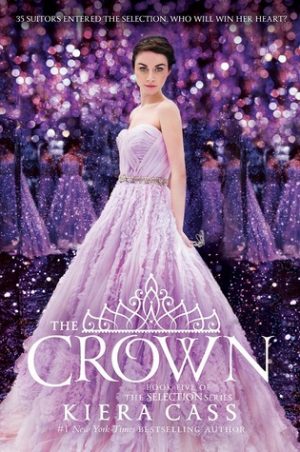 The Crown (The Selection #5)
By:
Kiera Cass
Website:
http://www.kieracass.com/
Release Date:
May 6th, 2016
Publisher:
HarperTeen
Series:
The Selection Series
Award:
Goodreads Choice Award Nominee for Young Adult Fantasy & Science Fiction (2016)
Rating:
This may be the end of the Selection series (at the time of this review I have not seen any previews or hints at another book in the series). As far as endings go this is the way to do it. When Eadalyn feels everything closing in around her she knows she must take control of the country and her fate. 
This book picks up right where the previous one left off. We see Eadalyn dealing with her mother, America's health scare. We see her come to the realization that she must step up or risk losing everything her family had worked so hard to build (or rather, in the case of her parents, rebuild after they made so many changes to the country.)
In order to keep things in control and keep the public focused on her Selection, as a form of distraction so America can recover and Maxon can be by her side, Eadalyn decides it's time to choose her Elite: Gunner Croft, Kile Woodwork, Ean Cabel, Hale Garner, Fox Wesley and Henri Jaakoppi (which allows his translator Erik to stay as well). Maxon's decision to stay by America's side also means Eadalyn is serving as regent of Illéa until her father and mother are able to return to their royal obligations. 
We see the reappearance of Marid Illéa who is friendly but his motivations are unclear and his choices aren't always easy to follow. At first I liked Marid but I definitely preferred some of the Elite over him. Marid did make sense as a choice for Eadalyn but, seeing as he was not part of the Selection, Eadalyn does not see a way to choose him. Marid, realizing this, is angry. He feels his family should've kept the power of the country and he saw Eadalyn as his way back in. Slowly my liking for Marid died away and I waited for the end of the book to hopefully see how Eadalyn dealt with him.  
We see Kile Woodwork put up a surprising fight for Eadalyn as he comforts her with the struggles surrounding her family and her own distress over the entire situation. Kile I have liked from the beginning but I felt, especially at this point in the story, that he was more her friend and confidant than her potential husband and king.
Gunner, in a classy move, lays things out logically for Eadalyn. Soon they agree to part ways but, again it's all done with class.
Eadalyn goes on a date with Henri (and by extension Erik) however the language barrier causes some issues, making everything seem so impersonal. Eadalyn, in an effort to grow closer and give Henri a chance, asks Erik to give Henri English lessons and her Finnish lessons. This pleases Henri and it makes Eadalyn happy to see Henri thrilled and it shows, to us as readers, how pure Eadalyn's intentions can be.
As we neared the end of the book I was excited and curious to see who Eadalyn would pick. I knew who I preferred her with and I knew who I didn't want to see her with at all but, I'll admit, I liked Erik the most however, my liking Erik was problematic. He wasn't of noble birth (like Marid) or an Elite (like the remaining men). This meant, realistically and as per the rules of the Selection and the laws of the country, my shipping of this pair was useless and impossible.
On another note we see some truly awesome moments in this book to shatter stigma's within the world of Illéa and within our own world. Eadalyn accepting a same-sex couple in her midst as well as Eadalyn requesting permission from her parents that she be allowed to ascend the throne. Eadalyn does this for two reasons: to give herself some more authority over her own life and the lives of those around her (i.e. the same-sex couple) and to allow her parents time together without returning to the responsibility of taking back the throne and control of the country.  
We see some underhanded dealings as Eadalyn's coronation and engagement announcement approach, particularly from Marid. However, we do see more classy moments, particularly from Kile and Henri. The ending, and who Eadalyn chooses, I will not spoil here but please understand that it was probably the best ending I could've asked for, even better than the ending America and Maxon had in the third book of the series. Perhaps, the best moment was when Maxon encourages Eadalyn to follow her heart and not the laws and that's what she does. In a truly cliché , feel good moment, love does conquer all in this series.