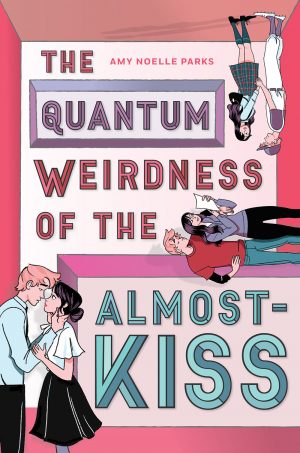 The Quantum Weirdness of the Almost-Kiss
By:
Amy Noelle Parks
Website:
https://amynoelleparks.com/
Release Date:
January 5th, 2021
Publisher:
Harry N. Abrams
Rating:
When I saw this book cover on NetGalley I found it cute and simple, a clean cover that drew my eye. A cute story about the chaos around teenage romance made me feel like it was a good idea to jump into a less serious story.
Caleb and Evie have been friends for years, best friends, but everyone around them feels that they have to be more than friends. Evie has never really been interested in dating, instead focusing on her love of math (I can't relate) and her struggles with anxiety (100% can relate).
When a new guy shows up suddenly Caleb is in a panic, realizing that maybe is finally interested in dating but not dating him. The truth comes out – Caleb is in love. Here comes the love triangle.