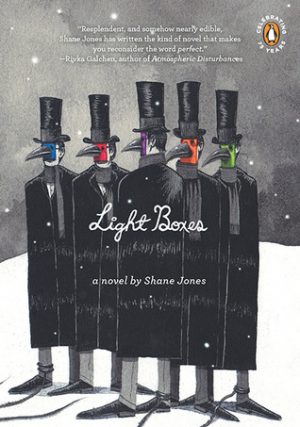 Light Boxes
By:
Shane Jones
Illustrator:
Kein Garduno (illustrations); Paul Buckley (Design/Lettering)
Release Date:
2009
Publisher:
Penguin
Rating:
Shane Jones' debut novel Light Boxes is a short, vivid thing with all the trappings of a fable. Prior works of Jones' include poetry and short stories in publications such as New York Tyrant, Unsaid, Typo, and Pindeldyboz.
The novel takes place in a small town that is trapped in the month of February. No matter what they do, March won't come. Instead, they're stuck in the dark and cold. To make matters worse, people start disappearing, never to be found. Children are vanishing with no explanation. The world is frozen, the skies are dark, and no one is allowed to fly. Everything from kites to hot air balloons are banned.
The book takes on a very poetic tone both in tone and in its visual style. Sections are usually quite short, no more than a few pages at most. The point of view changes between several different characters, most of whom are members of the same family, though other members of the community also included in this list.
Interesting poetic license is taken visually as well. Font, font size, and other stylistically interesting choices are made. Some sections are lists or notes, and a few images and illustrations are also included.
The tale told is very fable-like. The world is both like and unlike our own, perhaps from a time just past living memory or perhaps set somewhere that never existed at all. Magic is very real in this world, but its intricacies never quite explained. Those who love the morals and vagueness of fairy tales will find much to love here. However, those who prefer concrete explanations and hard magic systems probably wouldn't find this in the Goodreads recommendations list.
Light Boxes by Shane Jones is a short, slight tale that embodies the cold of winter perfectly. It's very possible to binge in a single sitting, and as such, this would make for a perfect inclusion in a readathon or a great reading choice for a snowy morning along with some hot chocolate. Though I am not usually a poetry reader, this book does urge me to find more of Jones' poetry and other works.