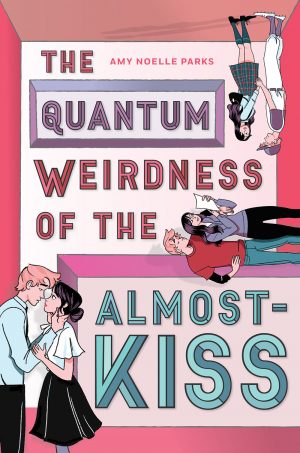 The Quantum Weirdness of the Almost-Kiss
By:
Amy Noelle Parks
Website:
https://amynoelleparks.com/
Release Date:
January 5th, 2021
Publisher:
Harry N. Abrams
Rating:
When I saw this book cover on NetGalley I found it cute and simple, a clean cover that drew my eye. A cute story about the chaos around teenage romance made me feel like it was a good idea to jump into a less serious story.
Caleb and Evie have been friends for years, best friends, but everyone around them feels that they have to be more than friends. Evie has never really been interested in dating, instead focusing on her love of math (I can't relate) and her struggles with anxiety (100% can relate).
When a new guy shows up suddenly Caleb is in a panic, realizing that maybe is finally interested in dating but not dating him. The truth comes out – Caleb is in love. Here comes the love triangle.
Desperate times call for desperate measures and Caleb has to do something to get her attention but not as himself, as someone in an online forum that catches her eye. Evie's falling for someone on the internet and Caleb is now in a mess of his own design.
The characters are fun and enjoyable, just complex enough to not be boring but not teenagers that are so complex you forget they are teenagers. It's a fine line sometimes and Amy Noelle Parks walked that line perfectly. The Quantum Weirdness of the Almost Kiss also touches on dysfunctional families, conflict with parents and how kids and teenagers, no matter how smart they are, are always doubted by adults.
If you enjoy the best friends to lovers trope this book is definitely for you. Dive in and don't look back, you'll enjoy every page.
I was reminded of To All The Boys I've Loved Before and it was a fun, easy story to get into and spend my Sunday enjoying.
The narrators of this story did a wonderful job and I enjoyed their pacing, tone and slight changes to represent other characters without overdoing it. (Honestly I can't stand male narrators that go falsely high-pitched for female characters or female narrators going comically deep for male characters.)
The original story was first published under the title Can You Help Me Find You? in March of 2020. Under the new title it was republished on January 5th, 2021. Thanks to NetGalley, Harry N. Abrams, Dreamscape Media and Amy Noelle Parks for the advanced audiobook copy of The Quantum Weirdness of the Almost-Kiss.