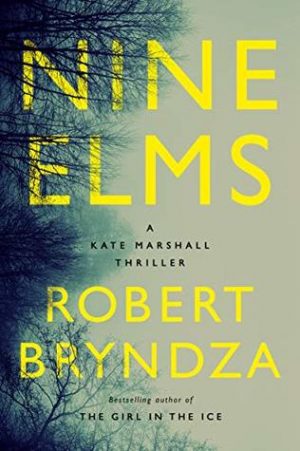 Nine Elms
By:
Robert Bryndza
Website:
https://robertbryndza.com/
Release Date:
December 1st, 2019
Publisher:
Thomas & Mercer
Series:
Kate Marshall
Rating:
Sometimes book suggestions are so perfect it's as if the website providing it to you is really inside your head. Nine Elms by Robert Bryndza was one such suggestion that, despite the heavy topics and intense scenes that were admittedly uncomfortable at times, was a perfect fit for me. If you like crime, thrillers, mysteries and tough female main characters the story of Kate Marshall may be a good fit for you as well.
First things first, as I mentioned above this story has some heavy scenes and subject matter. Murder, rape, child abuse, cannibalism, etc. While the story follows Kate Marshall as she tries to help the parents of a missing girl find the truth about what happened to their daughter we do get glimpses of the story from the killer, an accomplice, his psychotic mother and Kate's assistant Tristan. In the scenes from the mind of the killer, an accomplice and the killer's mother I was almost immediately on edge as these people are, simply put, sick. Normally I can read/ listen to / watch terrible stories like this and only feel slight heebie jeebies after years of being into true crime (always disgusted but rarely creeped out to the point of turning off/ stopping what I was doing) but with this story Robert Bryndza wrote some of the most horrible characters ever. Horrible as in horrible people, not horribly written.
The good characters we meet are wonderful but also flawed. No one is perfect, including our main character Kate Marshall. Kate, as a recovering alcoholic, is working to keep her life going in the right direction after her career in law enforcement ended in scandal.
Fifteen years ago Kate had figured out who the Nine Elms cannibal was and helped put him away, nearly dying in the process. The circumstances around the capture of the killer, and Kate's connection to him, made her career go up in flames and now she is teaching criminology, something she loves to do, while working towards her continued sobriety, connecting with her son and keeping her life together.
All of this is disrupted when a copycat killer pops up, following the murders of the Nine Elms Cannibal with his own replicas of the crimes. Kate knows she's in danger but you can never really know how much trouble you're in until it's too late.
This book can definitely be read as a standalone as you do get resolution at the end of this book however there is a book two currently published in the Kate Marshall series.
I've already started reading it.
If you're looking for a new crime thriller definitely pick up Nine Elms but beware of the associated trigger warnings and the shock value of the crimes. Still, any book that can leave me desperate enough in the middle of a snow storm to buy book two immediately on Kindle should be worth checking out.